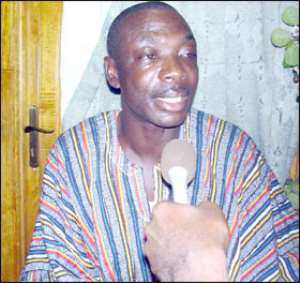 Magnus Ebow Duncan INFLATION CONTINUES its surge in the second-month running, hitting 19.86 percent in January 2009, the highest since February 2004.
The trend which is expected to continue due to low food production in the coming months and the falling cedi, would trigger increases in general price levels in the country.
According to Magnus Ebo Duncan, Head of Statistics/Economics at the Ghana Statistical Service, both food and non-food inflation shot up. However the food inflation which constitutes more than half of the weight used to compute the Consumer Price Index (CPI) was higher than the non-food inflation, he said.
When CITY & BUSINESS GUIDE posed a question about the impact of the continuous cedi fall on the year-on-year inflation, Mr. Duncan responded by saying that inflation would continue to rise if the local currency continues to decline since it would have significant effect on imported products. Moreover, the ensuing months would witness challenges with food production, he added.
Releasing the figures, Mr. Duncan said three food sub groups contributed more than one percentage point to the change.
According to the figures released, food inflation increased to 19.42 from 16.73 percent recorded in December 2009 while the non-food inflation recorded 20.16 percent, up from 19.12 percent.
Again, seven sub-groups from both the non-food and food components contributed more than one percentage point to the annual rate of inflation for November.
Hotels, cafes and restaurants and vegetables including potatoes and other tuber vegetables were the highest contributors, adding 2.95 and 2.51 percentage points respectively.
With regard to the non-food inflation, clothing and footwear, furnishings, household equipment and health contributed 1.97, 1.80 and 1.12 points in that order.
Education and communication saw some slight changes of 0.26 and 0.01 percent respectively.
On the other hand, bread and cereals and fish added 1.92 and 1.77 points to the change.
Similarly, fruit, meat and milk, cheese and egg contributed 0.63, 0.58 and 0.44 percentage points respectively.
Once again, inflation in the rural areas was lower than in the urban area. While rural inflation was 19.24 percent, urban inflation inched up to 20.26 percent, from 18.50 percent recorded in December 2008.
For the regions, Volta region once again exhibited the least inflation of 17.30 percent followed by the Brong Ahafo region with 17.38 percent inflation and the Ashanti region which recorded inflation of 17.50 percent. Surprisingly inflation in the Greater Accra region shot up from 19.04 to 23.72 percent, mostly due to higher food prices.
On the other hand, the Western, Upper, Eastern and Central regions followed suit with inflation of 19.02, 20.70, 21.62 and 21.93 percent respectively.  
The Northern region recorded inflation rate of 24.85 percent.
Since January 2008, inflation (then 12.81 percent) rose steadily till it hit the highest in June 2008 (18.41 percent). Gradual decline in the rate was recorded between June and October (17.30 percent) before the rate began witnessing an increase in November (17.44 percent) and December (18.31 percent).
By Charles Nixon Yeboah