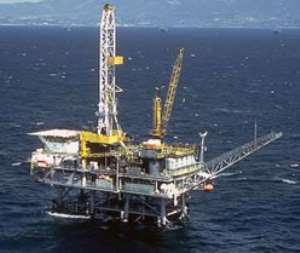 Anadarko Petroleum Corp. is moving ahead on deep- water drilling this year despite oil prices hovering at 2004 levels amid the global recession.
The Houston-based independent explorer and producer on Monday announced a discovery at its Heidelberg prospect in the Gulf of Mexico. The field, in about 5,000 feet of water, is near the company's Constitution oil and gas platform about 190 miles southwest of New Orleans.
The well's total depth reached about 28,500 feet, the company said.
Once drilling operations wrap up at Heidelberg, Anadarko will drill its nearby Vito prospect, the company said. Anadarko also is drilling its Shenandoah prospect farther southwest in the Lower Tertiary trend, and plans to drill its Samurai prospect north of that as well.
Simmons & Company International said in a note to investors Monday that the Heidelberg discovery likely equates to 100 million barrels of oil equivalent.
Also Monday, Anadarko said its fourth-quarter profit soared to $824 million, $1.79 per share, from $264 million, 56 cents per share, in the last three months of 2007, largely because of one-time gains. Excluding those, Anadarko's net income was $69 million, or 15 cents per share, 2 cents less than expected by analysts surveyed by Thomson Reuters.
The company's gains included the December close of its $1.4 billion sale of its half-interest in the heavy oil Peregrino field off Brazil to Norway's StatoilHydro. Anadarko sold that interest to move resources to lower-risk assets, such as fields in the Gulf and off Ghana.
The company retains offshore Brazil operations, notably its Wahoo prospect in the Campos Basin, where a test well showed initial flow rates of 18,000 barrels a day of oil.
For the year, profit fell to $3.3 billion, or $7.05 per share, from $3.8 billion, or $8.08 per share.
Quarterly revenue was $3.8  billion, up from $3 billion in the year-ago period. Annual revenue fell to $15.7  billion from $15.9 billion.
Big write-downs avoided
David Heikkinen, an analyst with Tudor Pickering Holt & Co. in Houston, said Anadarko's efforts to strengthen its balance sheet in recent years paid off because the company avoided large asset value write-downs and charges fueled by the plunge in oil and gas prices that other companies have had to record.
He called the company's results "solid" and said analysts will await Anadarko's announcement next week of its 2009 capital spending plans. The company spent nearly $5 billion last year, and Heikkinen said he expects Anadarko to plan for more than $4 billion this year, particularly given its emphasis on long-term projects like those offshore.
Those efforts have produced exploration success. In addition to the Heidelberg and Wahoo discoveries in the Gulf and offshore Brazil, last month Anadarko announced that a test well in the Jubilee field offshore Ghana indicated it could eventually deliver 20,000 barrels of oil per day.
"We believe heading into 2009 Anadarko has some of the best potential news flow with the exploration portfolio and new developments," Bernstein Research analyst Neil McMahon said in a recent report.
Anadarko said the discovery well in the Heidelberg field increases its understanding of the surrounding deep-water rock formations under a thick layer of salt. The company has drilled seven successful exploration wells in that area, known as the Miocene trend.
Handy location
Simmons said the value of the Heidelberg discovery probably is enhanced by its proximity to the Constitution platform. That could allow the well to be tied to Constitution rather than require an expensive new platform.
It also boosts Anadarko's Gulf profile, because so far the company has had more than 50 percent exploration success on its Miocene prospects, Simmons said.
Also Monday, Houston-based Mariner Energy, one of Anadarko's partners on the Heidelberg field, announced natural gas drilling successes on two other Gulf wells—Bushwood in 2,700 feet of water and Smoothie much closer to Louisiana's shore in 60 feet of water.
Mariner said the Bushwood well was drilled to nearly 25,300 feet, while Smoothie's was drilled to 20,100 feet. Mariner's partners in the Bushwood well include Apache Corp. and a subsidiary of Helix Energy Solutions. The independent holds all the working interest in Smoothie.
Anadarko shares closed down 65 cents at $36.09 Monday. Mariner shares closed up 91 cents at $10.81.
Source: Chron.com