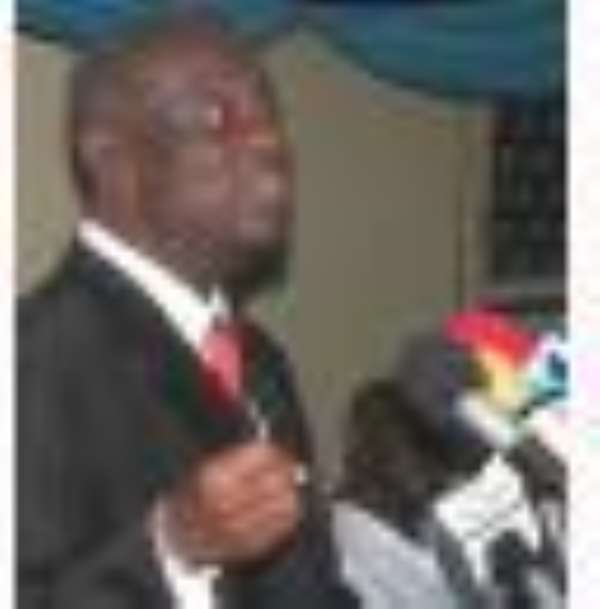 One of the difficulties people encountered when John Atta Mills became President was how to address him. It was a bit clumsy for many especially colleagues in the media. Some suggested that he be addressed as Professor President Mills, others have stuck to President Mills, which really is quicker and easier when you are on the radio or television. One of the things we in Ghana are yet to get used to is addressing politicians and other public office holders by excluding their titles and positions. People took offence when Mr. John Kufuor was simply referred to in the media as John Kufuor without prefixing his name with the title Mr.

Obviously this kind of sentiment is reasonably justified because of our cultural settings. Really and truly if one cannot refer to their father by their first and surnames, why should they do so with the head of state who is the father figure of the land. It is culturally unacceptable. But let us pause for a second, put aside the cultural aspect for a bit and look at the linguistic aspect of things.

Linguistically, it is wrong to refer to our heads of state with the prefix President - President Rawlings, President Obama, President Kufuor are all wrong- In other words it is Linguistically incorrect to refer to our president as "President Mills" since the noun PRESIDENT is a position and not a title. We can say "The President" or Professor Mills but not President Mills.

And speaking of Professor Mills, the scoop is that things are a bit hard for him regarding the selection of ministers for his cabinet. Obviously that is to be expected. People are making it difficult. It happens in club football, national teams and in politics where the hawks and moderates slug it out for the best jobs. There are blocs in every party and every bloc would rightly or wrongly want to protect its interest. The scheming and jostling for position in the new administration is, however, frightful. Undoubtedly people have worked hard and expect to be rewarded with jobs.
What is most frightening about this scheming for position is the counter effects it may generate if not managed properly. It has the potential of derailing party unity and thereby thwarting the very good agenda for change. Ghanaians have monumental expectations from the Mills administration and they want Professor Mills to do things differently from the NPP.

I was one of the very quickest to criticize Haruna Iddrisu, the Party´s Youth organizer and Member of Parliament for unnecessarily exerting pressure on John Mills when he said that the youth of the party are expressing worry over appointments and want jobs because they are equally capable. Perhaps it was a subtle expression of fear by Haruna that the Old Folks in the NDC might have their way and a warning that, that could cause disaffection for the party.
These are very serious and trying times for the party. We expect the government to make mistakes, but those mistakes must not be such that it threatens party unity. It behoves on the OLD and NEW GUARDS to think carefully how far they have come, how some of them may have been "persecuted" and the trust and expectations reposed in them by the millions of deprived citizens of Ghana who didn't see any direction in the NPP, hence gave the NDC their mandate.
It would be interesting to see how things play out in this political chess, of which every member in the various factions of the NDC wants to win. Compromises have to be made In the interest of nation and party and members have to note that whilst some people get their call to duty in the morning, others will surely get theirs at twilight. The opposition New Patriotic Party is just lurking in the shadows and would not hesitate to make capital of any in -fighting within the ruling party.

By the way, did you hear that Professor Francis Doudou, a former Olympian is most likely to be our next Youth and Sports Minister and that one of the following persons would get the nod for the position of Deputy Youth and Sports Minister - Kojo Bonsu, Abuga Pele, Nii Lantey Vanderpuye and Kwabena Yeboah?
Very highly placed sources tell me Kwabena Yeboah is not a member of the ruling NDC even though he is the son-in-law of one of NDC´s very big wigs. Kwabena Yeboah was going to be nominated deputy sports minister under President Kufour. He was slated to be Mallam Issah´s deputy, but some mighty hand worked somewhere and it was passed over him to Joe Aggrey who later became the substantive minister. Kwabena is one of the country's most outstanding sports writers and he does his job with a lot of resilience and panache. He has dedicated his working life, which spans some 20 years to sports in our country and his depth of knowledge in the fraternity is superb. Kwabena has, in his little way I believe, nurtured many budding sports writers dotted all over the country.
But would his panache and knack for writing be enough to make him perform so well in arguably one of the most controversial ministries? Perhaps yes, looking at the abysmal performance of Joe Aggrey, another critical and veteran sports writer, or maybe no, simply because Kwabena Yeboah is not Joe Aggrey. Judging by the performance of his newspaper and his consistent appearance on GTV in spite of the difficulties, Kwabena Yeboah is your man when it comes to resilience.
One of the concerns most people in the sporting fraternity have raised is that he is not critical enough of his friends in the sporting industry. Examples of a lack of firmness and balance have ranged from "his blind support" of Herbet Mensah, Tony Yeboah and Kumasi Asante Kotoko. Even though Kwabena is amongst the two topmost candidates who might get the job, he does not have a constituency and that could cause disaffection from supporters of the other contenders.
Hon. Abuga Pele was the Member of Parliament for Chiana Paga and Ranking Member on Youth and Sports. He worked with the Internal Revenue Service, IRS, between 1988 and 1996 and was MP till the last parliamentary elections when he lost his seat. He played football in his heyday and brings to the table his depth of knowledge acquired as a footballer and ranking member on sports in the legislature. He probably stands tall amongst his competitors because aside everything else, he brings two very special things to the table. He is an Eckist by religion and that could be a boost for the rather marginalized Eckankar faith which has not been showcased very much in our country.
So in the spirit of all inclusiveness, we may just have a non Muslim/Christian minister. He also, like Nii lantey vanderpuye brings to the table a political constituency. How that will work to Abuga´s advantage is something we may see by the close of the month as government has hinted.
Michael Kojo Bonsu served in many capacities at Kumasi Asante Kotoko. He´s currently publisher of AGOO Magazine, which was started in 2002. Kojo Bonsu was Director of Kotoko until 1996. He speaks English and French and has solid connections in FIFA and CAF. He is an NDC man and has made several unsuccessful bids for the GFA Chair position. He may not have a solid constituency but he certainly brings on board his shrewd business prowess. He´s largely into football and as to whether or not that would be good enough to secure him the job is something I am sure we are all anxiously awaiting.

Nii Lantey Vanderpuye like Kwabena Yeboah, is my senior colleague at GBC. Nii is the NDC Member of Parliament for the Lodzokuku constituency. He´s another stalwart in sports journalism. Engaged in active sports in his school days at Legon. He is from Greater Accra and that may be to his disadvantage as I expect several ministers to emerge from the Greater Accra Region. There may be concerns over having too many appointments and ministers from the region. Nii is very hard working and loyal to the NDC. He may just prove the pundits wrong and sail through looking at the following he has from his constituency. He may be on the thresh-hold of becoming a deputy minister for Ghana, but in politics you do not discount who has what bloc of following and that is why perhaps Jerry Rawlings is incorporated into every campaign activity of the party and he is listened to in the party. Take him out at your own peril.

What the Youth and Sports Ministry needs is not just a sports man or woman, but someone who brings colour, and glory to the various sporting activities. Ghanaians are looking for nothing short of results, not just from the sports ministry but from all corners of the economy.
All four candidates have impeccable credentials and would undoubtedly bring something refreshing to the table. Even though Abuga Pele is highly tipped for the job, voices in the sports writing fraternity believe giving Kwabena Yeboah the job would, as in the words of SWAG President Ackah Anthony,"be a recognition of the efforts of Ghanaian Sports Writers."
So who wears the deputy youth and sports minister crown, my bet is on Abuga and Kwabena. It is too close to call. (laughs) hahahahahha

Ras Mubarak, Scotland [email: [email protected] ]