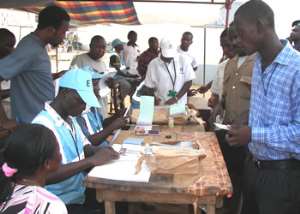 Accra, Ghana, January 6, 2009/African Press Organization (APO)/ -- European Commissioners Ferrero-Waldner and Louis Michel on the Presidential Elections in Ghana.
Benita Ferrero-Waldner, Commissioner for External Relations and European Neighbourhood Policy said:
"I am pleased to congratulate the people of Ghana for reconfirming their strong commitment to the democratic process in their country. I would like to pay tribute to the efficient and transparent way in which the authorities conducted these elections. This is essential to ensure a credible election process. As the final stages of the presidential elections are now being undertaken, I call on all parties who may have complaints to submit these through the relevant legal channels. I also would like to thank again Nickolay Mladenov, MEP, Chief Observer of the EU Election Observation Mission and his entire team for their hard work and commitment."
Louis Michel, Commissioner for Development, added:
"The peaceful and orderly conduct of this second round of the presidential elections in Ghana confirms the strength of the Ghanaian democratic system and the resolve of Ghanaians to remain a shining example of democracy in Africa. The European Commission remains engaged with Ghana and will continue to support the country's democratic and economic development in line with the Ghana country strategy."
Background:
The European Commission deployed an EU Election Observation Mission (EU EOM) for the Presidential and Parliamentary elections in Ghana on the 7 December 2008 and the Presidential run-off election on 28 December 2008. This EU EOM was led by Mr. Nickolay Mladenov, Member of the European Parliament and is as a further contribution by the European Union to support democracy in Ghana. The preliminary statement on the run-off Presidential election was presented by the Chief Observer Mr. Nickolay Mladenov on the 30 December 2008 in Accra.
The observation mission concluded that the election was generally conducted in line with Ghana's international and regional commitments. The Electoral Commission has also been impartial and open in its preparations for this run-off presidential election which helped guarantee transparency. Election day was largely calm and orderly despite isolated incidents of violence and attempts to disrupt polling in a limited number of cases.
The EU EOM deployed 56 observers from 24 EU Member States and Norway throughout Ghana to observe and assess the electoral process in accordance with international standards for election observation and the laws of Ghana. The EU EOM had will remain in country to observe post-election developments and the tabulation of results and afterwards, for the second round. A final report covering the whole electoral process including recommendations for future elections will be published by the EU EOM in the coming months.