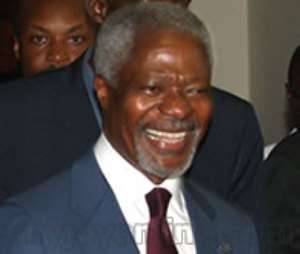 Former UN head Kofi Annan and the former US president Jimmy Carter have cancelled a planned trip to Zimbabwe.
They said the government had not granted them visas, making their two-day visit, with Nelson Mandela's wife Graca Machel, impossible.
The three international figures are part of a group called the Elders, set up to tackle world conflicts.
Earlier, Zimbabwe's government denied a report that it was seeking to block the visit.
"We had to cancel our visit because the government made it very clear that it will not cooperate," Mr Annan told a press conference in Johannesburg.
Power-sharing deadlock
The three said they were very disappointed and that the sole aim of the trip had been to help people in Zimbabwe, and that they had no intention of becoming involved in any political negotiations.
Mr Carter said they had applied for visas "several weeks ago" but that the government was "determined to prevent our entering Zimbabwe".
Mr Annan said that there had been no clear explanation from the Zimbabwean authorities as to why they were not welcome.
Zimbabwe's government has made no immediate comment.
The state-owned Herald newspaper had previously reported a government official as saying the planned mission was biased.
President Robert Mugabe's ruling Zanu-PF and the opposition Movement for Democratic Change (MDC) are in a power-sharing stand-off following disputed presidential elections earlier this year.
Aid groups say Zimbabwe is facing a major humanitarian crisis, with nearly half the population needing food aid by early next year.
The BBC's Peter Biles in Johannesburg says a cholera outbreak in Zimbabwe, which has killed nearly 300 people, has created a new sense of urgency.
Human rights activist Graca Machel said the Elders had planned to meet people and hear first-hand about the scale of the humanitarian crisis.
The Elders will now stay in South Africa to brief themselves about the situation in Zimbabwe and the neighbouring countries.