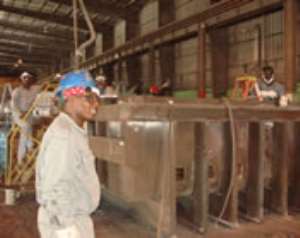 Norsk Hydro official speaks to Joy News
The Norwegian aluminium giant Norsk Hydro says it never entered into any agreement with the Ghana government nor company to acquire a stake in VALCO.
Norsk Hydro, one of the two investment partners mentioned in the deal document to have been part of the consortium buying a 70% stake in VALCO, said it only held preliminary talks with the company.
In an interview with Joy News reporter, Norsk said it had no plans to invest in VALCO and had not been party to any such deal.
"We have never signed or made an agreement regarding VALCO nor do we intend to do so in the immediate future," Erik Brynhildsbakken, a spokesperson for Norsk Hydro told Joy News.
The company maintained it had long lost interest in acquiring a stake in the Ghanaian firm but would not give reasons for their position.
Norsk Hydro said it had only been in dialogue with VALCO just as it had been in dialogue with other companies elsewhere around the world.
The deal ratified by Ghana's Parliament on Friday by acclamation provided that Vale and Norsk Hydro would pay an initial $25 million to Ghana's government, out of the $175 million agreed on.
The remainder would have been due only if VALCO resumed production with power guaranteed from the Volta dam and two pot lines running.
But the news broke on international wires that both companies mentioned in the agreement had denied ever putting pen with Ghana's government. They also denied knowledge of International Aluminium Partners which was purported to have signed the agreement on their behalf.
The Chief Executive of VALCO has however maintained that the deal is legitimate and the best, so far, Ghana could secure for the ailing company.
[Listen to the full interview with Erik Brynhildsbakken, spokesperson for Norsk Hydro]
Story by Fiifi Koomson