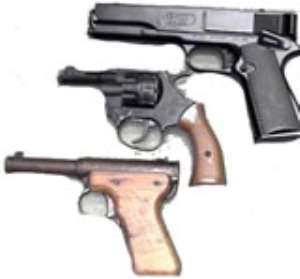 An eight-year-old boy has been charged with the murder of his father and another man in the US state of Arizona.
Police in St Johns, a small community north-east of Phoenix, said the child had confessed to shooting the two men with a 22-calibre rifle on Wednesday.
"Who would think an eight-year-old kid could kill two adults?" said St Johns Police Chief Roy Melnick on Friday.
A judge has ordered a psychological evaluation of the boy, who is being held at a juvenile detention centre.
He did not have a record of bad behaviour at school, and there had been no indication of any problems at home, prosecutors said.
Mr Melnick said police officers had arrived at the child's home within minutes of the shooting on Wednesday evening.
They found one victim just outside the front door and the other dead in an upstairs room, he added.
The second man is believed to have been lodging in the house.
The boy had gone to a neighbour's house and said he "believed that his father was dead", Apache County prosecutor Brad Carlyon said. Police later obtained a confession from the boy for the two killings.
His defence lawyer, Benjamin Brewer, said police had overreached in questioning him without representation from a parent or a lawyer, and that they had not advised him of his rights.