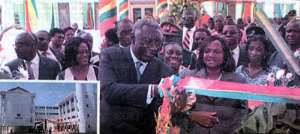 President Kufuor cutting the tape to inaugrate the Office Complex for Supreme Court President John Agyekum Kufuor has urged the Judiciary to be always mindful of the public's demand for justice that is efficient, fair and effective.
The transparency, fairness and speed with which cases are dealt with by the courts, and the effectiveness of the outcomes, he said, are the standards by which quality of justice is measured.
President Kufuor made the call when he inaugurated the Judicial Service Administration Block and a Financial and Land Investment Court Complex in Accra yesterday.
These edifices come as big relief to the country's judiciary bedevilled with severe accommodation shortages for decades.
The Administration Block was started about a decade ago whilst the Financial and Investment Court building to house five land courts, a human rights court, an industrial (labour) court, and two courts to handle financial cases, took a year to complete.
President Kufuor described as commendable the judiciary's efforts towards establishing specialised courts. This, he said, is a key strategy for decongesting the courts and to help speed up the administration of justice.
He said he is confident that as the judiciary continues to pursue its comprehensive reform and modernisation programme, Ghanaians will see a new and highly respected system of justice delivery.
President Kufuor said in the discharge of their respective functions, the three arms of government are inextricably linked and as such must support each other.
To facilitate this process, the Commonwealth Law Ministers have since November, 2002, come out with a set of guidelines on best practices that should govern the relations between the Executive, Legislature and the Judiciary in promoting good governance, the rule of law and human rights.
He encouraged the leadership of the judiciary to commit itself fully to the guidelines referred to as 'Latimer House Principles', and adopt it as blueprint for enhancing accountability, transparency and integrity in the judicial system and for ensuring stability, economic growth and development within the country.
Chief Justice Mrs Georgina Theodora Wood also noted that more court houses and accommodation for judges will ensure that Ghanaians have access to justice.
She announced that a state-of-the-art Appeal Court building constructed in Kumasi, in the Ashanti Region will be inaugurated next month and conveyed appreciation to the Government for the attention and support it is giving to the judiciary's infrastructure development.
Mr Joe Ghartey, Attorney General and Minister for Justice on his part said the new court buildings represent a strong and independent future of a judiciary, which Ghana will continue to be proud of.