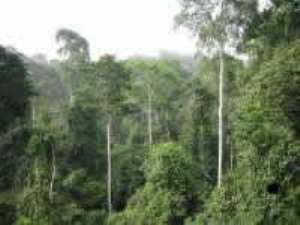 The Ministry of Lands, Forestry and Mines on Friday denied reports that it had been directed by the Office of the President to fast track the sale of the Achimota Forest to an entrepreneur for the construction of a shopping mall.
A statement issued by Mr Charles Wereko, Public Relations Officer of the Ministry, said government had no plans to sell or dispose of the only greenbelt in the metropolis.
"The Ministry can confirm receipt of a petition from Nii Owoo family, the original owners of a portion of land adjoining the Tema Motorway extension around the Dimples Junction, requesting the ministry to return the said land to them.
"Nii Owoo family petitioned government for the land which was originally acquired in 1927 under the Public Ordinance Certificate title No. 220/1927 for the construction of Achimota School.
"(This was) after Nii Owoo family had failed to convince the Accra High Court to return the land to them on the grounds that compensation was not paid for the acquisition but records available at the Lands Commission show that compensations were paid in respect of all acquisitions made during the colonial administration."
The statement said on receipt of the petition, the ministry wrote to the Lands Commission to request for advice.
"The Lands Commission is still consulting with other stakeholders including the Forestry Commission, Town and Country Planning Department and Environmental Protection Agency on the petition.
"The Lands Commission's letters to these agencies on the matter does not in any way constitute a confirmation of a directive from the Office of the President to sell the Achimota Forest as is being alleged but forms an important part of the consultation process adopted by the Lands Commission in the consideration of such petitions."
The statement said the outcome of the Lands Commission's consideration on whether the land in question should be returned to the Nii Owoo family would be made public as soon as the consultation process was completed.
The statement noted that since the NPP assumed power in 2001 the government had aggressively pursued a nationwide re-forestation programme leading to the restoration of forest cover for over 14,000 hectares of the degraded reserves and generated one million jobs.
"It is therefore untenable to suggest that the Ministry, which is spearheading the re-forestation effort, would deliberately engage in acts that would undermine or compromise the on-going greening programme."