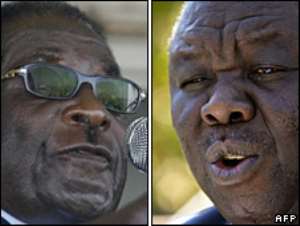 Former South African President Thabo Mbeki is due in Harare for further mediation aimed at breaking the political impasse in Zimbabwe.
The government and the opposition MDC remain deadlocked over a decision by President Robert Mugabe to allocate key cabinet posts to his own Zanu-PF party.
Opposition leader Morgan Tsvangirai has threatened to pull out of a power-sharing deal agreed last month.
Zimbabwe's government says Mr Mugabe's actions do not violate the agreement.
A government list published on Saturday gave the main ministries, including defence, home, foreign affairs, and justice to Zanu-PF.
The country's ambassador to the UN, Boniface Chidyausiku, told the BBC that the post of finance minister was still open for negotiation.
Crippling woes
On Sunday, Mr Tsvangirai said that if Zanu-PF wanted the defence ministry, the MDC must have home affairs, which controls the police.
He told a rally in Harare: "If they [Zanu-PF] do it that way, we have no right to be part of such an arrangement.
"The people have suffered. But if it means suffering the more in order for them to get what is at stake, then so be it."
Under the existing agreement, Mr Mugabe remains president while Mr Tsvangirai becomes prime minister.
Zimbabwe has been experiencing a crippling economic crisis.

On Thursday, it was announced that Zimbabwe's annual inflation rate had soared to 231,000,000%.
The UN says it needs $140m (£82m) for food aid in Zimbabwe over the next six months.
The current stalemate stems from disputed elections in March this year when Mr Tsvangirai gained more votes than Mr Mugabe, but not enough for outright victory.
Mr Tsvangirai then pulled out of a run-off vote in June, accusing Zanu-PF militia and the army of organising attacks on MDC supporters which left some 200 people dead.
Critics of Mr Mugabe say he triggered the economic crisis when he began seizing white-owned farms for land redistribution ahead of parliamentary elections in 2000.
But Mr Mugabe blames Western sanctions, which target him and his chief supporters, for wrecking Zimbabwe's economy.
Source: BBC