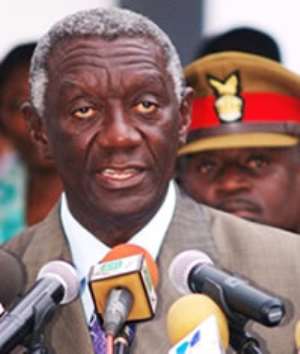 Almost two years after the government withheld one-month salary each of some 19000 striking teachers, President John Agyekum Kufuor on Tuesday announced he has ordered payment.
President Kufuor announced the de-confiscation at the 14th National Best Teachers Awards celebration held at Sunyani, the Brong Ahafo Regional Capital and explained that the decision was made in the spirit of national reconciliation.
The affected teachers, mainly members of the National Association of Graduate teachers, undertook an eight-week strike beginning September 1, 2006, to back demands for better remuneration, an action outlawed by the Fast Track High Court in Accra.
The court presided over by Justice Richard Asamoah, ruled that NAGRAT's action was unconstitutional and ordered the leadership of the striking teachers and their members to return to the classroom and use proper means to achieve their objectives.
The ruling followed an application filed by the National Labour Commission (NLC) that had prayed the court to order members of NAGRAT to call off their strike action because it contravened the Labour Act.
The Ghana National Association of Teachers, GNAT, stayed out of the strike and asked its members to stay in the classroom during the period, however, a number of their members who also interpreted the NAGRAT action as a fight for all teachers joined in.
When the aggrieved teachers grudgingly returned to the classroom at the end of October, the Ghana Education Service Council demanded from the leadership of NAGRAT an admission that the action was wrong and to subsequently apologize as a condition for the release of their October salaries.
The Council also asked NAGRAT to apologize particularly to President Kufuor whose appeal to call off the strike and return to the classroom they did not heed, as well as parents.
NAGRAT, presided by Mr. Kwame Alorvi spurned the demands and said the association owed no apologies to anyone because the reasons for the industrial action were genuine and legitimate.
At the awards, Mr Sadik Boateng of the T.I. Ahmadiya Senior Secondary School in Kumasi, Ashanti Region, emerged the overall National Best Teacher and won GHc60,000 worth of a house to be situated at a site of his choice. His prize also comes with a set of computer.
The second prize of a double cabin Nissan pick-up plus a set of computer, went to Ms Magdalene Mensah of the Opoku Ware Senior High School, also in Kumasi, with Madam Alice Dzifah Gligoh of Awudome Senior High School in the Volta being crowned the second runner-up. She received a saloon car and a computer.
Story by Isaac Yeboah