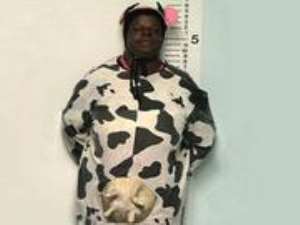 MELBOURNE: An American woman has been sentenced to one-month imprisonment after being arrested and charged for unruly behaviour, while wearing a cow's costume at the same time.
Michele Allen, 32, from Ohio, who was charged with chasing children, blocking traffic and yelling at police, pleaded guilty on September 29 to one count of disorderly conduct, court officials said.
Allen had committed offences by chasing children round a block and urinating on a neighbour's porch on September 27 night.
When an officer saw her, she was told to go home and to stay there, reports the Daily Telegraph.
However, hours later, the police were called back to the same area after they received a report that a woman in a cow costume was blocking traffic.
The police reported that Allen smelt of alcohol, slurred while speaking, belligerent and even swore at the officer.
She was sentenced to a month in the local lock-up.
http://timesofindia.indiatimes.com/American_woman_dressed_as_cow_arrested/rssarticleshow/3550539.cms