Reading Changed My Life - Prof Ken A. Attafuah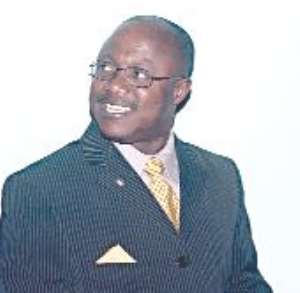 In the early years of his primary education Young Ken was not a brilliant child as compared to his twin brother. He always feared the sight of the cane and this affected how he saw life in school.
To him, school was a place for bullying and tyranny.
In a class of about 35 pupils Young Ken was frequently the last but one in terminal examinations.
But for one great teacher who turned his life around in Class Four, Young Ken would have dropped out of school like most of his mates in primary school.
The teacher challenged him to read Bible stories and assured him that he would be good as his twin brother if he did that.
He also promised to reward him with the books he cherished so much, that is, Bible storybooks.
With that assurance, Young Ken worked very hard and with the help of his elder sister, Felicia, who taught him to read he moved from the 32nd to the 5th position and gradually began to top the class.
That was the turning point in Ken's education as a little school boy. He excelled in all his examinations and today, he is now a professor of criminology (the scientific study of crime and criminals).
He also works to promote human rights, justice and peace and is recognised both locally and internationally.
In an interview with Professor Ken A. Attafuah, he said he is the last of seven children and started school at the Juaso L/A Primary School.
Even though he was not academically good when he started school, he was an active, and curious happy child particularly good at trapping animals, fishing, hunting and basket weaving.
According to Prof. Attafuah, the only thing that he was passionate about at school was tracing outlines and drawing from Bible story books.
He said even though his mother was an illiterate she valued education and made sure her children attended school regularly.
Prof. Attafuah said he and his siblings always went to the farm before and after school, since his parents were farmers.
"Unlike my twin brother who was not strong, I always carried heavy loads of foodstuffs and walked for quite a distance to the house.
I believe that I did not grow tall due to that," he said jokingly.
Prof. Attafuah said after Class Four his performance in school improved and one day when his maternal uncle accidentally looked through his exercise books, he suggested to his parents to allow him to continue to secondary school.
Prof. Attafuah said he sat for the Common Entrance in Form Two and gained admission to Prempeh College but when he received the admission letter he had only some few days to raise the sum of ¢25 at that time for his fees.
Since his parents could not afford that much money he had to harvest plantain suckers and foodstuffs from their farm and carry them to the Juaso Train Station to sell to be able to raise the amount needed.
But unfortunately, they couldn't so he lost his admission at Prempeh College.
Around that same time, Jachie-Pramso Secondary School, offered him a place, he had no choice but to attend that school.
He said he went to the boarding house with neither a school mattress nor a trunk. "I had only a chop box and slept on a blanket on a wooden bed," he added.
"Our boarding house was a cocoa shed which had been converted into a dormitory; therefore, whenever it rained the roof leaked badly and students had to move to the corners of the room to avoid the rain," he said.
Interestingly, the boarding house at the time was at Pramso while the classrooms were at Jachie, which was two kilometres apart.
Students, therefore, had to walk for about eight kilometres each day to the dining hall to eat as well as for classes.
Prof. Attafuah did not relent in his efforts, he studied hard and made his school proud by winning a National Essay Competition in Form Three..
"That was the first time the name of my school was mentioned on radio, and I felt very good," he noted.
As a president of the debaters club in his school, Young Attafuah used to debate with other schools such as Obuasi Secondary Technical and Prempeh College.
"One time my school debated students of St Peter's Secondary School (PERSCO) and when I got up to speak, most students were amazed by my level of argument because they did not expect much from a student from a school which was less endowed," he pointed out.
Prof. Attafuah said he fell in love with St Peter's Secondary that day because apart from it being one of the best schools in the region it also had a very serene atmosphere for studying.
That was when he decided to pursue his sixth form educationthere. But his mates always made fun of him and said that he would not be able to make it. So they nicknamed him PERSCO from that day.
But Prof. Attafuah said he studied hard and proved his mates wrong by excelling in the GCE Ordinary Level to gain admission to PERSCO for his sixth form course.
"It was at PERSCO that I made my long-time friends and also met children from affluent homes", he added.
Prof. Attafuah said even though his parents never visited him in school he was not bothered at all but studied hard to pass his 'A' levels to gain admission to the University of Ghana, Legon to read Sociology, Political Science, and Philosophy and completed in 1982.
After completion, he became a teaching assistant at the university for his national service and later taught for a while at the Abuakwa State College, Kibi.
He thereafter gained a scholarship from the Valco Trust Fund to the University of Manitoba, Winnipeg, Canada, for a Masters degree in sociology.
He also studied for his doctorate degree in criminology at the Simon Fraser University, Canada.
Professor Attafuah is also a lawyer who has served in various capacities in and outside the country which include the Executive Secretary of Ghana's National Reconciliation Commission (NRC).
He has also won many awards such as the Rev Dr Martin Luther King Jnr Memorial Award for his outstanding contributions to the enhancement of race relations in Canada. He recently published a book titled "Fighting Armed Robbery in Ghana".
Currently, he is the acting Executive Secretary of the National Identification Authority (NIA) and is married with three children.
Story by Hannah A. Amoah