Ghana Remains Regional Aviation Hub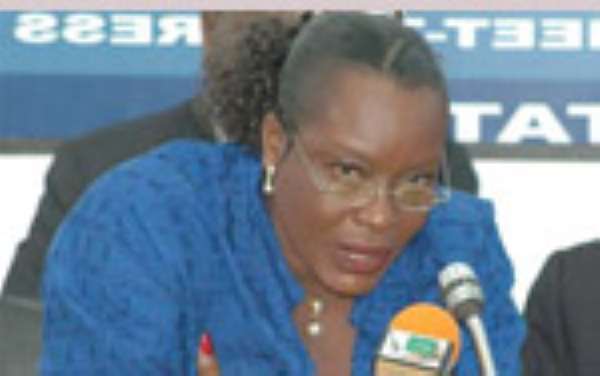 The Ministry of Aviation has re-affirmed its commitment to making Ghana an aviation hub and gateway to the West African sub-region by the year 2015.
According to Gloria Akuffo, the sector minister, her outfit will continue to enhance the upgrading of the existing regional airports into international standards.
Late last year, the Ministry of Aviation began programmes to upgrade facilities at regional airports to enable them handle international flights.
With regard to the Kumasi Airport, a new fully-furnished VVIP lounge has been constructed with remedial works on existing airfield pavements ongoing.
At the same time, there had been rehabilitation of the terminal building.
Similar provisions had also been made for the Tamale and Takoradi Airports with a complete overlay of the runway in Takoradi still in progress.
With Ghana's quest to re-attain its Federal Aviation Administration (FAA), Ms. Akuffo explained at the government's "Meet the Press" programme that the U.S Department of Transportation under their "Safe Skies for Africa Initiative" has signed a joint statement with the Ministry of Aviation to assist the country achieve this.
A memorandum of understanding (MOU) would soon be executed by the FAA and the Ghana Civil Aviation Authority (GCAA) in furtherance of the joint statement, she added.
Ghana also continues to review its Bilateral Air Services Agreements (BASA) with Nigeria, Ethiopia, Kenya, Egypt, Uganda and Libya in line with the Yamoussoukro decision as a way of increasing flights from Ghana to those destinations.
Similarly it is reviewing BASA with non-AU countries that include the United Kingdom, Netherlands, Italy, Belgium, Germany and Morocco.
New agreements are also being negotiated between the country and Qatar, China, Saudi Arabia and Surinam.
This development confirms Qatar Airlines' move to start airline operations in the country.
On the performance of Ghana International Airlines (GIA), Ms Akuffo pointed out that it has maintained an average punctuality rate of 88.52 percent since the beginning of the year.
She also debunked the assertion that GIA was part to be blame for Ghanaian tourists that got stranded in Barbados.
Average load factor for passenger for 2007 was 65 percent indicating a 20 percent increase over that of 2006.
By Charles Nixon Yeboah