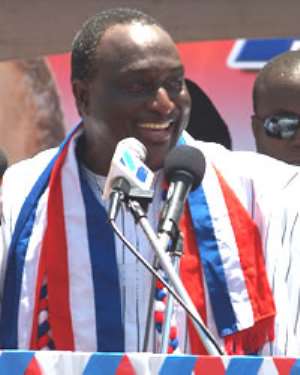 The 2008 National Campaign Committee (NCC) of the New Patriotic Party (NPP) has expressed the hope that wise counsel would prevail for Mr Alan Kyerematen, runner-up in the party's December 23 presidential race, to rejoin the party.
A statement signed by Mr Jake Otanka Obetsebi-Lamptey, Chairman of the Committee, said the party had learnt with regret the resignation of Mr Kyerematen from the party, as the party worked to retain the presidency and parliamentary majority in the December general election.
The statement said "our disappointment is shared by every member of our party".
It said Mr Kyerematen's resignation was reported to be on account of alleged harassment of his supporters by others in the party.
It explained that since the end of the NPP presidential campaign, Nana Addo Dankwa Akufo-Addo, the presidential candidate, had had to work harder than perhaps any other nominee to heal the divisions that occurred during the primaries.
This, according to the statement, was necessitated by the unusually large number of aspirants, with Nana Akufo-Addo meeting the challenge magnificently.
It said Nana Akufo-Addo had met with aspirants, both as a group and individually on many occasions and brought on board all aspirants and many of their supporters, including those of 'Mr Kyerematen.
The statement pointed out that a few days ago, Nana Akufo-Addo called on Mr Kyerematen at home and had extensive discussions on his concerns and the future of the party, adding that earlier last week, Mr Kyerematen chaired a meeting of the Committee on Identifiable Groups.
The statement said the parliamentary primaries of the party were consistent with the party's constitution, rules and regulations, being supervised by party officers.
"To avoid discord and promote unity, the party, working with the Presidential Candidate, has put in place mediation committees for the regions to resolve problems arising out of the primaries.
"Incumbent MPs; regardless of who they supported, are facing challenges while some without reference to what they did in the presidential primaries, are being returned unopposed," the statement added.
It said any suggestion that the supporters of any particular person were being targeted was, therefore, not based on facts.
According to the statement, the campaign team had full confidence in the party's ability to manage the parliamentary primaries with fairness and firmness.
It said the NPP had always been bigger than any individual, adding that after every presidential primary, the party had united behind the winner.
"His Excellency President Kufuor as well as our current nominee, Nana Addo Dankwa Akufo-Addo," the statement intimated, both "helped the winners when they lost", and expressed the hope that the tradition would continue this time too.