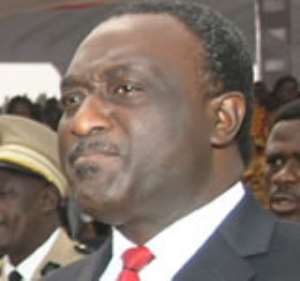 It is likely that the former Minister of Trade and Industries, Mr. John Kwadwo Kyerematen, who became widely known as Alan Cash during the NPP Presidential race, might join and bear the flag of the new Reformed Patriotic Democrats (RPD).
The interim national chairman of the party, Mr. Kwabena Adjei, alias Bambaata, has indicated that the failed Presidential aspirant might be gunning for the leadership of the RPD.
"We arc rescheduling a meeting with Alan Kyerematen to discuss other conditions and concerns," Bambaata told The Chronicle exclusively in Kumasi.
He said the interim RPD leadership is talking with Alan over the possibility of leading the party in the December elections.
Bambaata said, the RPD is indeed working for Alan and he would soon take over the flag bearership position as soon as talks are completed.
Mr. Kyerematen has since last Thursday announced his resignation from the ruling NPP. His resignation attributed to alleged harassment of his supporters by the Nana Akufo-Addo campaign team comes barely a year after he resigned as a Minister of the Kufuor-led administration.

In the initial stages of the formation of the RPD they expressed their support for the candidature of Mr. Alan Kyerematen the former Minister for Trade and Industry, PSI and Private Sector development.
Kwabena Adjei explained that the choice of Alan Kyerematen is the fact that he (Alan) had indicated his preparedness to listen and address the concerns of the foot soldiers who feel sidelined after the sacrifices while in opposition and in government.
"For his concern, we are prepared to use our money and other resources to help him," Bambaata assured.
Bambaata, as well said that the RPD is in consultation with the other personalities for the regional and constituency positions as well as parliamentarians.
The current RPD leadership has always proposed a youthful leadership with a think tank of the old, whose wisdom and rich experience the party wants to tap from in order to move the country forward. Several attempts made by the editorial team to get Alan Kyerematen to confirm or deny these secret talks proved futile.
Though his cell phone rang several times, he did not answer the call.