Ghana Holds Trade Expo In Italy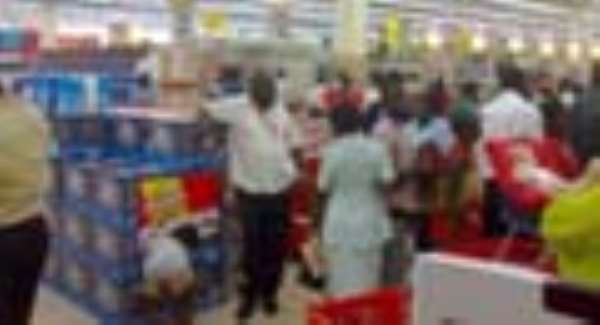 The Governments drive towards finding local and international market for made-in- Ghana products, has been given a boost with the impending "GHANA TRADE EXPO 2008", to be held in the Italian city of Bergamo.
The fair to be held at Ente Fiera Promoberg, from June 25 to July 2 this year, is on the theme, "Strengthening Ghana-Italy Relations Through Trade".
The trade fair is being organized by the Ghana-Italy Chamber of Commerce (GICC) in collaboration with the Ministry of Trade, Industry and PSI as well as Tourism and Diaspora Relations.
Other fair partnering agencies are Association of Ghana Industries, Ghana Mission in Rome, Italian Embassy and the Mayor of the Province of Bergamo.
Over one million visitors, comprising Ghanaians and other nationals are expected to patronize the exhibition which is expected to draw about 500 participants from the Ghanaian business industry.
The trade expo is opened to players in the hospitality, real estate, arts and culture, agro processing, clothing, fashion and textile industries.
Herbal products, locally brewed drinks and cosmetics will also be on display, as well as service providers like insurance, banking and finance among others.
The objective of the trade expo is to open trade opportunities for exhibitors, which will result in partnership and tighten businesses and economic ties between Ghanaian and Italian businesses.
To spice up the program, a cultural show to be chaired by the Paramount Chief of Akyem- Abuakwa Traditional Area, Amoatia Ofori Panyin II, will see some modeling by Ghanaian fashion houses and performances by local artistes to entertain exhibitors.
This platform will also provide an opportunity to showcase latest Ghanaian fashion and design.
A food fair will also be organized, where Ghanaian dishes will be sold to the African and Italian community and other nationals.
To round off the fair, a business forum will be held with country presentations on trade opportunities in both Ghana and Italy.
To facilitate traveling to the exhibition, the GICC will organize a charter flight to Bergamo; make arrangements for internal transport from the airport to hotels and other incentives.
Speaking at the launch of the fair, Gifty Ohene-Konadu, Deputy Minister Of Trade, Industry, and PSI, said the trade expo is a manifestation of the very good economic relations between Ghana and Italy over the years.
"The Italian government has extended a number of credit facilities to Ghana that have enhanced the country's economic performance".
By Patrick Ampong-Baidoo