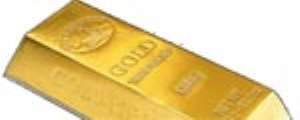 The recent upsurge in the price of gold on the world market, reaching a record $1,000, has triggered a rise in the all industry index for February 2008 released by the Ghana Statistical Service (GSS) last Friday.
The Producer Price Index (PPI) for Ghana which measures the average change over time in the prices received by domestic producers for the production of their goods and services was 35.18 percent, representing a slight increase of 3.12 percentage points over the previous month's figure.
However, the monthly all industry index for last month edged up by 1.60 percent after it went up by almost the same magnitude in the previous month.
The annual index for mining and quarrying, manufacturing and utilities were 56.29, 27.42 and 56.45 percent respectively.
Grace Bediako, Government Statistician said the rise in the index of mining was a good omen for the economy of Ghana since its external reserves would increase.
With regard to mining and quarrying, the annual index compared to January 2008 increased by 12.18 percentage points.
The February index for mining of metal ores was 60.30 percent, while the annual index for mining and quarrying jumped 35.44 percent.
The jump in the monthly index for mining and quarrying was as a result of a leap in the index of mining of non-ferrous metal ores such as gold by 16.34 percent.
About manufacturing, the annual index compared to the previous month increased by 4.55 percentage points.
Two thirds of the major manufacturing groupings showed appreciable increases in their index level with each of the following groupings showing an increase of at least 10 percent in their annual index level.
In contrast, the annual index of a few of the industry groups under manufacturing such as beverages, furniture and manufacture of equipment and machinery either remained virtually unchanged or decreased over the one year period.
On the other hand, the monthly manufacturing index for February 2008 edged up 1.57 percent following an increase of 2.05 percent in January 2008.
However, the annual and monthly utilities index for February 2008 compared to February 2007 remained basically unchanged.
This means electricity and water bills remained the same during the period.
By Charles Nixon Yeboah