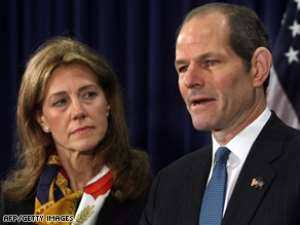 Gov. Eliot Spitzer, wife at his side, announces he is stepping down
"Everyone is susceptible to the notion that when you begin to do well, you begin to see no boundary lines and forget the rules apply. Everybody's susceptible to that."
These were the words of the then New York Governor Eliot Spitzer when he granted an interview to the BBC's Hardtalk programme in 2006. It is obvious he has fallen prey to his own words. He voluntarily resigned on Wednesday March 12, 2008 after being linked to a prostitution ring.
Flanked by his wife, Mr. Spitzer, who is a leading Democrat with a vital role in Hillary Clinton's campaign announced that "I cannot allow my private failings to disrupt the people's work."
He is considered as a Democratic Party high-flier, one of the super-delegates who could be key to deciding who gets the Democratic Party nomination. Having resigned, he will no longer serve as a super-delegate, according to the Democratic National Committee.
In his resignation statement, he stated clearly "Over the course of my public life I have insisted, I believe correctly, that people regardless of their position or power take responsibility for their conduct."
As the man who became governor of New York State pledging to clean up government, once the news of the sex scandal broke he was open to charges of hypocrisy, and his resignation became inevitable.
His political background had initially been seen as a rising career in politics with Mr Spitzer sometimes even mentioned as a possible future presidential candidate. He made his name - and earned his "Sheriff of Wall Street" nickname - as New York's attorney general, pursuing powerful financial institutions in the courts. His governorship marked a prize win for the Democrats, as the office had been in Republican hands since 1994.
In fact, from the above one does not need to be a clairvoyant to realize how deeply involved Spitzer is when it comes to the powers that be to sort of ignore the issues and concentrate on his professional performance. After all, he has gained respectable reputation in his profession.
A Harvard Law graduate and heir to a real-estate fortune, he was described by critics as having an aggressive personality driven by an ambitious agenda. He was elected New York State Attorney General in 1998, and earned a crusading reputation by taking on high-profile civil actions and criminal prosecutions. Wall Street investment bankers, insurers and racketeers were in his sights.
How I wish Governor Eliot Spitzer was in Ghana or a Ghanaian? He would have set the record of the millennium not waiting for CHRAJ or other governance institutions to investigate into the issues far more a law court. He did not even wait to explain the details or tried to narrate how his private life cannot hinder his official performance. "I cannot allow my private failings to disrupt the people's work".
Governor Spitzer, I believe acknowledged that the issue at stake relates to qualitative professional and moral credibility in public service. That is why he won't wait for the demerits or merits of a Court decision to either stay as governor or resign.
I bet that we do not and will not have Spitzers in Ghana's politics. Once their professional performance meet public expectation and the President especially is satisfied, that is cool for us. On the issue of morality and dignity in public life that is not a problem because we simply believe everybody has a secret and same should be applied to public office holders. "I have acted in a way that violates my obligations to my family and violates my sense of right or wrong", that's Spitzer for you. Back in Ghana that sense of right or wrong or violation of a family's obligation is a non issue so far as a Minister or Member of Parliament is seen as a hardworking one with respect to the sector concerned.
It is based on this that I personally believe that the issue of questionable ethics and weak moral leadership will continue to undermine structures that set foundation for good governance in Ghana and Africa as a whole. This though seems like a minor transgression goes deep down to the heart of Africa's poor governance.
Do you remember David Blunkett? He resigned his position as UK Home Secretary in December 2004 after it had emerged that his office had fast-tracked a visa application for his ex-lover's nanny. An e-mail was sent which said the application should receive "no favours but slightly quicker".
Mr. Blunkett insisted that he had done nothing wrong and his close friend and ally, Prime Minister Tony Blair said he had "left government with his integrity intact".
In Africa, or better still my country Ghana, I am yet to know such persons who will leave such juicy post in the midst of circumstances with intact integrity. They always feel in their absence nothing could be done or they are always the best for the job.
If an interior minister in most African countries had helped with a visa application for an acquaintance in this way, no-one would have batted an eyelid. For a fact, if David Blunkett's details had been leaked to an African newspaper, they would not have seen it as a story - such abuse of power, and far more extreme versions, are taken for granted.
It is therefore no wonder that in Africa, people are more willing to take up arms to fight for power because being in government leads to such perks, not to mention the possibility of corruption when lucrative government contracts are awarded.
Political or Ministerial resignations remain all too rare, not only in Ghana but Africa as a whole.
The above scenarios on Eliot Spitzer and David Blunkett's errors are nothing compared to the issue of morality in some governments but the fact that they had to resign should be seized on by those campaigning for better governance in Africa. Realistically, good governance cannot be laid on foundation of weak moral leadership with gross disrespect to integrity.