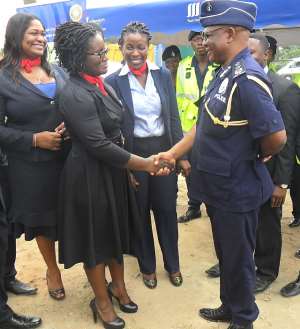 Director General COP John Kudor in a handshake with Sika Dove.
Millennium Insurance Company has expressed its intention to partner the Ghana Police Service to enhance its current visibility and accessibility initiative.
Under the new system, police officers are deployed to vantage points within residential and busy commercial areas to protect human lives and and properties.
The General Manager of Millennium Insurance Company, Mrs. Mary Sika Dove noted that policing is a shared responsibility that requires support of corporate organization such as her outfit.
Presenting canopies to support the visibility and accessibility strategy of the Police, she said Millennium Insurance is impressed with the improved police presence within the metropolis and is willing to partner them in that initiative.
"We at Millennium Insurance reckon that businesses thrive when there is a general sense of security. This new trend of policing is more of a proactive strategy that deters criminals from executing their nefarious acts and we consider supporting such a laudable initiative a priority when it comes to our corporate social responsibility," stated Mary Sika Dove, the General Manager of Millennium Insurance.
The Director General of the Ghana Police, COP John Kudolor called for support from corporate organisations to assist in the new way of policing to ensure order and protect residents. He disclosed that the visibility and accessibility strategy of the Ghana Police has helped to reduce crime rate within the metropolis.
"This strategic approach which provides shortest distance to assist residents has helped to reduce crime rates within certain communities. It enables the police respond swiftly to law violations and other emergencies. In addition, it has also strengthened police-community relations and created a sense of security in the communities," explained COP John Kudolor.
He expressed gratitude to Millennium Insurance and appealed to the company to extend such gesture to other parts of the country.
By Frank Agyemang
[email protected]