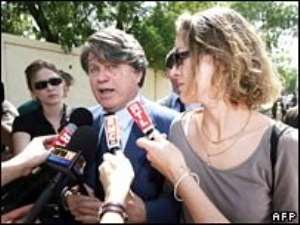 Six French nationals accused of trying to kidnap 103 children in Chad are going on trial in the African country.
The case involving staff from the Zoe's Ark charity will be heard in the former French colony's capital, N'Djamena. Zoe's Ark says the children were orphans from Darfur who were being taken to be fostered in France.
The six, who have gone on hunger strike, could face 20-year hard labour terms if found guilty but the French government has appealed for leniency.
The court will try to establish whether the children were the beneficiaries of a humanitarian project that went wrong, or the victims of child trafficking.
'Fight to the end'
The six were stopped by officials as they went to catch a flight from Chad to France in late October with the children.
Most of the children have been found to have at least one living parent or guardian.
The judge will want to know why, when none of the children was injured, they were bandaged and caked in fake blood ahead of their flight.
One of the accused, Emilie Lelouche, told France Info radio on Thursday: "We're going to fight to the end."
The aid workers have been on a hunger strike since earlier this month, refusing food but drinking water, and have accused the French government of deserting them.
Special treatment?
On Thursday, the French Junior Foreign Minister, Rama Yade, said the government had appealed to Chad to treat the accused with a "certain clemency".
French Justice Minister Rachida Dati said this week that if convicted the six might be able to serve their sentences in France because of a bilateral judicial agreement.
Analysts have speculated a diplomatic deal could be struck after French President Nicolas Sarkozy met Chadian President Idriss Deby last week in Lisbon during a European and African leaders' summit.
The case has sparked protests in oil-producing Chad amid claims the accused might benefit from special treatment because they are Europeans.
An unnamed government official told Reuters news agency: "Have you ever seen an African sent back home after committing a crime as serious as the one [allegedly] committed by the members of Zoe's Ark?"
Three Chadians and one Sudanese refugee are also on trial for conspiracy.
In all, 17 Europeans were arrested in the eastern Chadian town of Abeche on 25 October but 11 others - three French journalists, seven Spanish flight crew and a Belgian pilot - have since been repatriated.