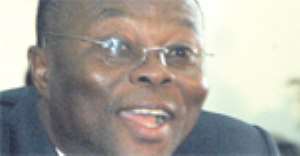 Information reaching CITY & BUSINESS GUIDE indicates that government would today or anytime soon announce the investor to take over Ghana Telecom.
Sources close to CITY & BUSINESS GUIDE reveal that government wants to meet the December 31, 2007 deadline by naming the strategic investor to take over the operations of the company.
Currently, three companies, namely France Telecom, Portugal Telecom and VODACOM are vying for the single slot.
Though France Telecom is believed to be in the forefront to take over GT, analysts suspect that the company's massive job cut policy makes it unfavorable to get the nod.
Moreover, VODACOM, as CITY & BUSINESS GUIDE gathers, had increased its bid price of about $400 million to $550 million, close to France Telecom bidding price of $600 million, putting it in a position to own a stake in GT.
VODACOM is an African communication company based in South Africa and according to CITY & BUSINESS GUIDE source at the Ministry of Communications, its bid is being motivated by former AngloGold Ashanti boss, Sam Jonah, who is a director of the company.
It is also believed that VODACOM's market leader prowess in South Africa- with more than 5,700 base stations ensuring in excess of 95 per cent of South Africans within the coverage area of its impressive cellular network, thus beating MTN- makes it a favorite to win the bid.
The company, which also offers 3G Service or UMTS, is present in South Africa, Lesotho, Tanzania, Mozambique and Democratic Repubic of Congo.
It would be recalled that CITY & BUSINESS GUIDE reported in one of it last months edition that France Telecom has won the bid to take over GT.
According to CITY & BUSINESS GUIDE, the business plans and expansion programmes submitted by France Telecom convinced the two transaction advisers, Ecobank Development Corporation (EDC) and Societe General to give the nod to the largest telecommunication provider in France.
But the Inter-Ministerial Committee comprising officials from the Office of the President, Ministries of Communications and Finance, and the Ghana Investment and Promotion Council (GIPC) had to re-evaluate France Telecom's bid after concerns were expressed by analysts about its policies.
France Telecom had proposed about $600 million dollars, which was above the $500 million rating of GT, paving the way for it to own about 61 per cent stake in GT.
It had on November 16, 2007 acquired 51 per cent stake in Telkom Kenya, increasing its presence to 15 in Africa.
By Charles Nixon Yeboah