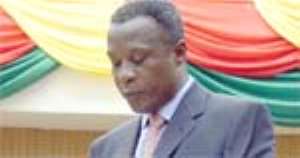 Ghana on Tuesday received a $45 million credit facility from the International Development Association of the World Bank to support the implementation of the coastal transmission of the West Africa Power Pool and Power System Infrastructure project.
The financing support, meant for the second phase of the project, is to assist the country in developing a more stable and reliable exchange of electricity among the national power systems.
Initialing for the Government of Ghana was Kwadwo Baah-Wiredu, Minister of Finance and Economic Planning, while Ishac Diwan, Country Director, signed for the World Bank.
The scope of the financing package includes the extension and modernization of the Akosombo Generating Station switch yard, upgrading of the Volta River System Control and Data Acquisition Center at Tema.
Others include construction of a 3rd bulk supply point in Accra/Tema load centers and procurement and installation of modern circuit beakers and relays at the Kpong Generating Station switchyard.
The credit will be on-lent to the Volta River Authority (VRA) under a subsidiary loan agreement for the implementation of the project.

Making some remarks, Mr. Baah-Wiredu said government expects consumers to use electricity judiciously and also pay promptly approved electricity tariffs to help sustain the operations of the Electricity Company of Ghana and the VRA in the wake of the numerous measures such as the construction of the Bui dam and the activation of the Osagyefo Power Barge put in place to boost the quantity of energy in the country.
Mr. Diwan also said Ghana's ambition to become the regional energy center is a big plus and therefore must be encouraged.
On his part, Kwame Amporfo Twumasi, Deputy Minister of Energy said apart from interconnecting the high voltage transmission systems of all the countries in the ECOWAS sub-area, it will also allow for energy trading amongst the countries in the sub-region.
This will provide a cooperative power pooling system which will increase electricity access to the people in the sub-region.
The project covers among others the Aboadze-Tema 330kV transmission line, Bolgatanga-Ouagadougou transmission line project and Kpong Hydropower plant rehabilitation project III.
By Charles Nixon Yeboah