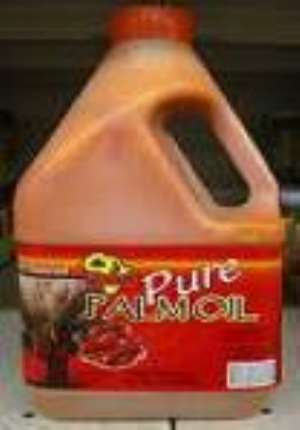 The price of palm oil hit a record high of 70,000 cedis per a gallon at the Apasare Palm Oil Cottage factory, near Adawso in the Akuapem North District at the weekend.
Madam Vida Amesi, Manager of the factory said the price was the highest since she established the factory over ten years ago.
She attributed the situation to the low harvest of oil palm fruits this season, which had led to an increase in the cost of oil palm fruits.
Madam Amesi explained that early this year, the factory sold a gallon of palm oil at 25,000 cedis because she was buying a bag of oil palm fruits at 50,000 cedis a bag but now the same bag of oil palm fruits cost 280,000 cedis.
She said though there was assurance that the harvest of oil palm fruits could improve by February next year, the price of a gallon of palm oil was not likely to fall back to 25,000 cedis again.
This, she explained was as a result of the rising cost of transportation of oil palm fruits from the Kwaebibirem District where they normally bought them to the factory premises at the Akuapem area.
Madam Amesi predicted that if the current supply of oil palm fruits did not improve, there was the possibility of the price of oil palm rising higher than the 70,000 cedis mark per a gallon before the end of the year right at the factory gate.
The Apasare Palm Oil Cottage is the main oil palm producing enterprise along the Koforidua-Mamfi road and has been producing large quantities of palm oil for local consumption and for export, while also providing employment for large number of women in and around Apasare.