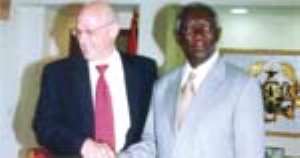 The United States (US) Secretary of the Treasury, Henry M. Paulson Jnr., has observed that opportunities for investment exist in Ghana.
He lauded the good leadership of President Kufuor and the Finance Minister in helping to shape the country's economy.
At a meeting with President John Agyekum Kufuor at the castle, Osu, Mr Paulson said he had earlier visited the Ghana Stock Exchange and noticed the good returns for those who invested in that area in the last two years.
He maintained that it was essential that Ghana ventured into the capital market, as that would help speed up the country's development process.
He disclosed that the theme for his trip was "Economic Opportunity, Jobs and Investment", and asked African countries to move beyond donor support.
Oil Producing and Exporting Countries (OPEC) intends to put in a substantial amount of about $750 million in the development of the private sector in Africa. This, the US Secretary of the Treasury noted, would result in the growth of the economy as it would create jobs for the youth.
On his part, President Kufuor stated that the development of the private sector was the priority of government, followed by development of human resources and good governance.
The President of African Development Bank (AFDB), Dr Donald Kabureke, who also called on the President, observed that Ghana had a friendly business atmosphere, hence the setting up of new banks in the country.
President Kufuor appealed to the head of AFDB to support victims of the recent floods out of the Bank's special relief fund.
He further urged the bank to consider investing in the nation's rail system, which government is struggling to restore.
Later in the day, Laure Olga Gondjout, Minister of State for Foreign Affairs of Gabon, was at the castle to deliver a goodwill message from the Gabonese head of state, Omar Bongo, to President Kufuor.
She narrated how the Gabonese president heard of last Wednesday's accident involving President Kufuor's official vehicle, and expressed the sympathy of her boss.
By Emelia Ennin