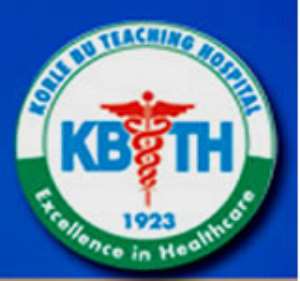 The Head of the Department of Medicine of the Korle-Bu Teaching Hospital, Professor Kwame Affram, has called on the public to assist the hospital to renovate the department.
He said the renovation of the department, which was started six years ago, was currently at a standstill due to lack of funds.
Prof Affram made the call when Unique Insurance Company Limited donated 30 benches and a cheque for GH¢l,000 (¢10 million) to the department.
He said the donation was the first of its kind to the department from a corporate body since its establishment.

In a tour around the department, the Daily Graphic reporter noticed that parts of the ceiling had been patched to prevent leakage during rainfall and only five benches were available for patients.
Prof Affram noted that the depart¬ment had also been experiencing water problems and lacked the required number of nurses who would ensure good health delivery to patients.
The Managing Director of Unique Insurance Company Limited, Mr Victor Kusi-Yeboah, who handed over the items, noted that the health needs of the people were essential and appealed to other organisations to support the hospital to improve health delivery in the country.
The acting Chief Executive Officer of the Korle-Bu Teaching Hospital, Dr Ben Annan, expressed his appreciation for the donation.
He said there had been an increase in the number of admissions at the Children's and Maternity wards, a development which had created congestion in the wards.
He; therefore, appealed to corporate bodies and philanthropists to assist in handling those problems at the hospital.
Source: Daily Graphic