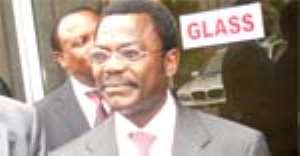 THE BANK of Ghana (BoG) says the redenomination of the currency has cost the nation $66.2 million.
It explained that the total cost covered the cost of printing of notes, minting of coins, educational campaigns to sensitize the public on the exercise and the cost of logistics for the distribution of the currency.
Disclosing the health of the economy for the last quarter to the media yesterday, the Governor of BoG, Dr. Paul Acquah, said over 90 per cent of the ¢20,000 and ¢10,000 notes had so far been withdrawn from the system.
According to him, the bank spent $94.2 million between 2003 and 2006 to replace and top-up the nation's existing stock of currency.
Comparing that to the cost of the redenomination exercise, he observed that the country had saved $28 million.
Dr. Acquaah maintained that there was adequate stock of the new currency in circulation to meet the growing demand of the populace.
Earlier in the year, the regulator of the banking industry announced that it was going to introduce a new currency, the new Ghana cedi, by knocking off four zeros from the old cedi. Indeed the circulation of the new currency took effect on July 1st, 2007.
So far, the new currency has been running alongside the old one as the bank pledged that the old currency would be withdrawn entirely from the system by December 31.
With barely two months to the end of the year, the bank said it had as at the end of October withdrawn 89 per cent of the old currency in circulation out of which 15.23 per cent was coins.
Meanwhile after December 31, 2007, the old Ghana cedi would cease to become a legal tender though the universal banks would still accept it in payments.
By Emelia Ennin