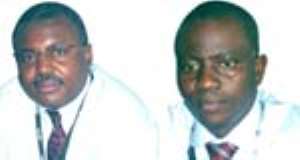 The management of Ghana Telecom (GT) has expressed shock and disappointment at the National Communications Authority (NCA's) directive on Wednesday, asking it to improve on its network quality.
NCA had directed MTN and OneTouch, two major operators that accounted for 88 per cent of traffic flows in the mobile telephony industry, to resolve the problem of interconnectivity by October 19, 2007.
The authority warned the two companies to cease activation of new access lines until their networks were appropriately dimensioned to take an additional capacity.
NCA said it would cause an audit to be undertaken into parties that failed to meet the deadline, adding that offenders would be severely sanctioned.
In reaction to a directive, a statement issued by the Corporate Communications Department of GT, said: "OneTouch is not in violation of the key performance indicators that govern its operations."
The statement stated that GT was being privatized with strategic investors currently in the country undertaking due diligence.
"In view of this fact, Ghana Telecom has no further comments," the statement noted.
MTN on the other hand explained that it had stopped the sale of its starter packs across the country since October 8, 2007 but said it was on the verge of communicating its action to the NCA.
"MTN has and continues to engage with the NCA to discuss the measures it has proactively been taking, prior to and following the launch of its brand in Ghana, to ensure that its customers have value for money," a statement issued by the company indicated.

It said the company had noted an astounding response to the brand following its launch in August this year, adding, "MTN therefore instituted measures to manage growth and enthusiasm against existing and planned capacity."
The company stressed that it recently announced additional capital investment to increase capacity coverage requirements and speed up rollout activities.
"We were pleased to have received a commitment from the NCA, reiterated in its press statement, to drive support regarding these and other operational issues challenging the industry," the statement added.
With regard to directives in relation to interconnectivity issues between MTN and OneTouch, the statement said communications spanning six months indicated that the existing issues regarding interconnectivity problems did not fall within MTN's area of control.

"Correspondence from MTN, on which the NCA was copied, articulates the need for OneTouch to provide sufficient capacity on the links with our network to address the congestion issues," it said.
The statement said MTN had also highlighted major concerns regarding a very significant number of poor quality international calls being terminated on its network by Ghana Telecom through channels meant for domestic interconnectivity traffic which also created congestion and noted that "we are yet to have those concerns addressed".
By Felix Dela Klutse