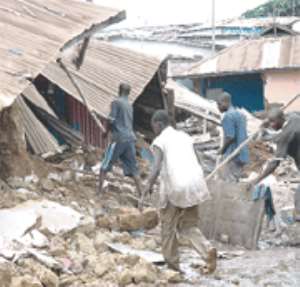 Some homes in the western parts of Accra have been thrown into mourning and despair following five deaths and massive destruction of property from three days of heavy rains.
Cost of damage to the scores of properties swept away by floodwaters is yet to be ascertained but the five dead, four women and a man, have been identified as residents of Mallam, New Gbawe and Kwashibu.
They are, Richo Quao, 30, Madam Millicent Sarpong, 37, a kenkey seller, and her daughter, Anita Tanoh, 18, both residents of Kwashibu, Ewurabena, 24, and her mother, 50, whose name was given only as Auntie Joyce, residents of New Gbawe.
According to eyewitnesses, Ewurabena lost her life in the process of rescuing her mother from their house to a storey building for refuge from the gushing waters that had surrounded their area.
In the process, she slipped with her mother and fell into the torrent.
Residents and friends of Ewurabena stood in horror while their closest friend, Mavis, wept uncontrollably.
Mavis said she advised Ewurabena to stay with her in her house when the floods started because it was safer there but she insisted on going to save her mother during which both of them perished.
At Kwashibu, Mike Agbenyenui, a co-tenant of Madam Sarpong, said the woman and her daughter died when they were trapped by the floods in their room.
He said their house was built right in a flood-prone area and that last Saturday's flood submerged the whole building trapping them in the process.
At Mallam Junction, four buildings collapsed but the residents escaped unhurt. Late into yesterday, some of the houses were still flooded with residents sorting out their personal belongings. Other victims were seen relocating with personal effects packed in pick-ups, to vacate the area.
The Ministers of Information and National Orientation and the Interior, Mr Kwamena Bartels and Mr Albert Kan-Dapaah, visited the bereaved families to commiserate with them.
They also sympathised with those who lost property to the floods and had been displaced. They assured them of government support.
Mr Kan-Dapaah said the National Disaster Management Organisation (NADMO) had been directed to evaluate the damage and provide relief items for the victims.
Mr Bartels, for his part, advised residents living in low-lying areas to take precautionary measures during the rainy season. He also pleaded with residents to stop building in waterways.
The communities of Borkoborko, Oduman, Manhean and Ablekuma and their adjoining areas have been cut off from the rest of Accra following the collapse of a bridge at Borkoborko Junction.
Motorists plying the route have to make a detour through Agape to continue their journey from the Borkoborko Junction. But for the goodwill shown by some residents near the spot where the bridge collapsed many motorists would have been trapped as they were not aware of the danger ahead.
The volunteers stood by to alert motorists of the danger ahead and to re-direct them to make a detour through Agape to continue their journey or to park their vehicles and come for them later.
Following reports that the bridge had collapsed, vehicles which plied the Ablekuma-Borkoborko, Oduman and Manhean routes refused to operate.
Passengers who had closed earlier because of the torrential rains and reports of floods along the Weija-Mallam Junction road had a hectic time getting home.
In other areas, roads were being washed away with erosion posing a severe danger to both the roads and property, especially from Awoshie, Anyaa, NIC, Nsumfa, Agape Junction, Fan Milk Junction and Ablekuma.
Following the severe floods at Mallam Junction, personnel of the Ghana Navy used a boat and live jackets to help ferry passengers to safe grounds. The problem resulted in heavy traffic and passengers who were returning to Accra from the Winneba area had to spend between two and three hours to get to Odorkor.
The National Co-ordinator of NADMO, Mr George Isaac Amoo, after touring some of the affected areas, said at the time rescue workers got to the affected areas at about 3.30 p.m yesterday, the situation was so chaotic, adding that apart from people being stranded, most homes had their fence walls destroyed.
According to figures made available at the Ghana Meteorological Agency, the Accra rain, which recorded 39 millimetres, was the lowest recorded among the areas in the southern belt of the country.
Story by Nehemia Owusu Achiaw
& Emmanuel Bonney