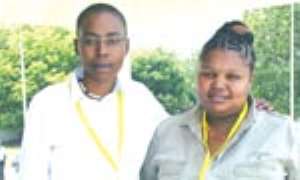 •For Their 'Human Rights'
Information A group of lesbians is currently in Ghana, attending the on-going African Commission on Human and Peoples' Rights at the International Conference Centre in Accra.
Their mission is to push forward the agenda of having their kind given the needed recognition on the continent.
The Director of the South African-based Coalition of African Lesbians, Fikile Vilakazi, said they were in Ghana to push for respect and recognition for homosexuals and other people who were suffering because of their sexual orientation.
She said if the Commission's mission was to stop the abuse of human rights, then it had a responsibility to listen to them since "charity begins at home."
Vilakazi stated that the Accra meeting did not include any discussion on matters of sexuality and that they hoped subtly, they could influence the agenda.
She noted however that it would be difficult penetrating their agenda but on one-on-one basis, they hoped to make some impact by lobbying individuals on the commission.
When asked if she knew the laws of Ghana and other African countries prohibited gay life, Ms. Vilakazi said she was aware but argued, "Laws are not static; it can be changed at any time.
The laws we have in our constitutions were handouts from the colonial masters and we are still keeping them in our books," she said.
Ms. Vilakazi therefore called for a change in the laws that were against minority rights in the statutory books across Africa.
The 33-year-old lesbian said she was once married to a pastor and later became a pastor herself but the marriage broke down after many years.
According to her, she became aware of her sexual orientation between the ages of 13 and 14 and had had four partners since.
According to Ms. Vilakazi, her biological family (parents, siblings and relations) were aware of her orientation and had come to accept it.
She said in her current relationship, they both behaved normally as other human beings but stressed that neither of them played the role of a man or woman.
"Our relationship is not gendered and we have been living together in domestic partnership because South Africa is yet to formally give such 'couples' the right to marriage."
She is currently pursuing her Masters Degree in Developmental Studies in South Africa, with specialisation in gender issues.
Ms. Vilakazi stated she had 'tasted' heterosexual relationship and for her, there was no difference between heterosexuality and gayism.
According to her, she was sponsored by her organisation to Ghana to push their agenda.
Also in Ghana is Wendy Isaack, a legal practitioner managing the Legal Department of the People Opposing Women Abuse (POWA) in South Africa.
She is representing her group, to create awareness on violence against women.
They both said they were worried about contracting HIV/AIDS and therefore used protective gears when having 'sex'.
She said it was unfortunate that Ghana passed the Domestic Violence Act after 50 years of nationhood.
Wendy said the concept of sexual rights was not the same as sexual issues.
An integrated approach to sexuality must include women broadly because they may be denied their sexual rights in various ways, she added.
"The concept is to move away from identity politics to one of integration of sexual minorities such as sex workers, gays, lesbians, bisexuals, transgender and also breaking these down into class and gender," she stressed.
The Coalition of African Lesbians (CAL) has members in 12 countries including Zimbabwe, South Africa, Namibia, Uganda, Nigeria, Botswana, Kenya and Tanzania.
CAL runs a number of programmes for lesbians across Africa including a Creative Expression project to help lesbians come out through writing, discussions, poetry and art.
The main problem facing lesbians in Africa is that even in countries like South Africa where lesbian rights are enshrined in the constitution, society itself is still very homophobic, putting them at risk of hate crimes such as rape, physical assault and even murder.
The recent Civil Union / Same Sex Marriage Bill passed by the South African Parliament was not the primary concern of the LGBTI community in South Africa.
Rather, women were concerned over the curative hate crimes and the homophobia in society. Despite the fact that lesbians had the legal right to adopt children, people still asked how could lesbians be parents in South Africa?
There was also the issue of fundamentalist religions - Christians, Muslims and Hindus.
Legalising same sex marriage in South Africa has had repercussions in various African countries such as Nigeria and Uganda, which have been extremely negative in their response and used the South Africa decriminalisation to enforce even more draconian punishments for homosexuality in their countries.
Last year, an alleged gay conference supposed to be held in Accra was called off after hue and cry by Ghanaians against the hosting of the meeting in Ghana.
The government of Ghana stepped in to officially ban the hosting of the said conference.