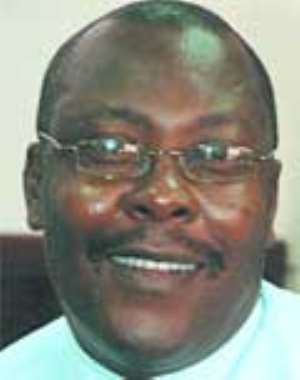 NDK FINANCIAL Services played spiritedly to win the maiden Chairman's Invitational Tournament when they thrashed Veterans 6-3 at the Theodosia Okoh Pitch last Saturday.
NDK's Daniel Duplex struck a hat trick for his side in the 2nd, 14th and 17th minutes, while Mustapha Dadzie scored twice with Ebo Arthur concluding the goal harvest.
Peter Duodo pulled even for the oldies but allowed their opponents to dictate the game thereafter. Veterans Edward Anum struck twice in the 55th and 61st minute to reduce the tally in the hotly contested game.
The competition, intended to usher in the new league season, attracted four teams including Multistix, Citizens, Veterans and NDK.
The first three teams received special cash prizes out of which some will be set aside for the development of juvenile hockey in the country. NDK took home 2.5 million cedis and a giant trophy for their effort.
The Chairman of the Ghana Hockey Association, Mr. Oko Noi-Dzanie gave seed money of 5 million cedis for juvenile hockey and appealed to other individuals and corporate bodies to follow suit in the association's bid to promote and develop the sports.
He urged the senior players to mobilise the juvenile players and whip up the interest of hockey in them, so that they take over from them when they are no more.