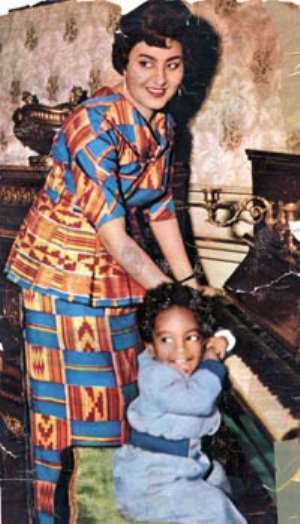 Fathia Nkrumah, widow of the first President of Ghana, Osagyefo Dr. Kwame Nkrumah, will not be able to participate in the Golden Jubilee anniversary celebration of the country's independence because she is indisposed.
The former First Lady who is suffering from weight problems has been hospitalised in Cairo, Egypt, and confined to a wheel chair, Sekou Nkrumah, one of her sons, has disclosed.
Madam Fathia celebrates her 72nd birthday on February 22. She has been living in Cairo since 1986, but visited Ghana during the 40th Independence anniversary celebration in 1997 with Gamel, her elder son.
Sekou Nkrumah told the Times in Accra on Wednesday night, that news of his mother's condition was relayed to him earlier in the day by his eldest brother, Professor Francis Nkrumah.
He said his brother, Gamel, an economist/journalist, and his sister, Samia, a journalist based in Italy, are by their mother's bedside at an intensive care unit of the hospital.
Asked whether the government has been informed of the situation, Sekou stated: 'I am unaware if the government is in the picture about my mother's health condition and how she could be helped immediately.'
He could also not tell if the Ghana Embassy in Cairo, Egypt, was aware of her condition and has informed the government.
Sekou left Accra for Senegal yesterday for a business conference.