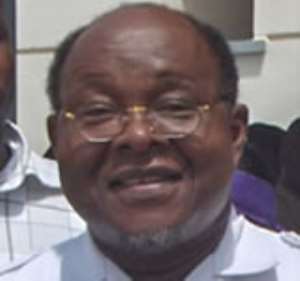 `If you can`t find 100 people throughout Ghana to assist you, then don`t come and waste our time`
MISSING FROM the political radar for seven weeks, Prof. Mike Aaron Oquaye, one of the numerous presidential aspirants of the ruling New Patriotic Party (NPP) has considered and endorsed the proposal by Mr. Appiah-Menkah, Chairman of the Ashanti Regional Council of Elders for a ¢500 million filing fee, and assured NPP delegates that he is very much in the race.

Prof. Oquaye, who is a Rhodes Scholar and also a Rockefeller Fellow, denied recent media reports that he had opted out of the flagbearership race, saying his present pre-occupation is delivering results at the ministry he has been assigned to.
"My present pre-occupation is the Communications Ministry but I'm still in the race," he asserted, adding, "Only God and Congress would determine my fate."
In an exclusive interview last week, Prof. Oquaye, also the Minister of Communications, looking fresh from a six-week vacation, said no aspirant is being asked to dip his hand into his pocket to pay that money.
"If you can't find only 100 people throughout Ghana then it means you don't have serious people behind you. Don't come and waste our time!" Prof. Oquaye stated forcefully.
"If you are a serious contender, then you should be able to find serious people to support you to raise that money," he argued, pointing out that "A serious contender should be able to get 100 people to contribute ¢5million each. If they believe in you, they will come."
Prof. Oquaye, who is also the Member of Parliament (MP) for Dome-Kwabenya Constituency in the Greater Accra Region, justified that position, arguing that "that money is going into the coffers of the party, anyway, and if you win it would be used to fund your own campaign."
He continued that if one was really a serious contender then it should not be difficult to rally around him/her people to raise the proposed ¢500 million.
Mr. Appiah-Menkah's proposal for aspirants to pay ¢500 million attracted quick reactions from some party members, including some of the aspirants, suggesting that the flagbearership was being put up for the highest bidders, a situation they argued could discourage otherwise very fine materials. It was also seized on by the opposition National Democratic Congress (NDC) elements and thrashed.
The NPP Chairman, Mr. Peter Mac Manu, had also stated that the filing fee for the party's flagbearership was not likely to be more than the ¢100 million that the NDC aspirants were made to pay.
However, some aspirants, including Capt. Kwame Nkrabeah Effah-Dartey (Rtd) have indicated their readiness to pay whatever amount is determined by the party, even if it's ¢1billion!
Ban lifted
According to him "until what one may describe as a 'ban' is formally lifted, while I remain a Minister, I intend to concentrate on the work at the ministry, and this is what I've been doing,"; in obvious reference to President John Kufuor's injunction to Minister-flagbearer-aspirants not to peak before time.
He said though there had been challenges, he is happy to have met them, adding that even that, at the end of the day, would count towards his performance, as he is expected to give of his best.
Roots
Prof. Oquaye and a former Chairman of the NPP, Mr. Peter Ala Adjetey, were the two Greater Accra regional representatives of the party during its formation in 1992, and has since been a member of the national campaign teams of the party and represented it at every debate at elections time.
He became Regional Secretary of the party in the then Ga Rural District, an area that now has five constituencies.
On whether issues of tribalism are likely to threaten the flagbearership race, Prof. Oquaye emphasised that it would be left to congress as the ultimate authority to decide who leads the party, adding, "Tribalism must be left out of our politics."
Stating that he is a cosmopolitan Ghanaian, he pointed out that his father, who hailed from Osu was a foundation member of the UGCC at Asamankese, Treasurer and financier of the party as well as its successors, Ghana Congress Party (GCP), National Liberation Movement (NLM), and the United Party (UP); the roots of the NPP at Asamankese. His mother was from Odumase Krobo.
He said that notwithstanding, he grew up at Asamankese in the Eastern Region, and married an Ashanti, adding that he therefore sees things with cosmopolitan spectacles and not from a tribal viewpoint.
So what has Mike been doing at the Ministry? Read tomorrow's edition of The Chronicle.