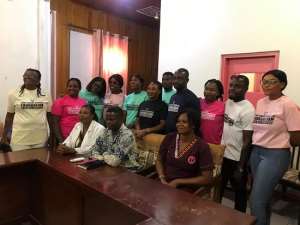 Kumi Yeboah Memorial Foundation has supported ten cancer patients with a cash of GHS10,000 at the Komfo Anokye Teaching Hospital (KATH) in Kumasi in the Ashanti region.
The ten female patients received GHS1,000 each to support their payments for cancer treatments who are on admission at the health facility.
The founder of the NGO, Mrs Sarah Baah Afriyie said the gesture was to honour her late father Kumi Yeboah who died from cancer in 2022, whom she named the foundation after.
She stated that the foundation will support not only cancer patients but venerable women in society to assist them access healthy lives.
Public Relations Officer for the foundation Osei Bonsu Shadrack made the presentation on behalf of the founder at a short ceremony at the Oncology Department at KATH on Tuesday, May 23, 2023.
Osei Bonsu Shadrack noted the presentation was to celebrate one year anniversary of the death of Kumi Yeboah, the founder's father, who was a philanthropist.
"In honour of the one-year anniversary of the death of Mr Kumi Yeboah, Mrs Sarah Baah Afriyie has directed us to give you GHS1,000 each to offset some of your medical bills," Shadrack told the patients.
Head of the Oncology Department at KATH Dr Bawuah Osei Bonsu on behalf of the patients thanked the foundation for the kind gesture.
Dr Bawuah Osei Bonsu explained that cancer treatment is cost-intensive and as a result makes it difficult for most people to pay their bills.
"Most cancer patients defer treatments owing to the inability to buy drugs and access other services, a situation that delays their recoveries. So this money is timely and will assist them in their treatments," he posited.