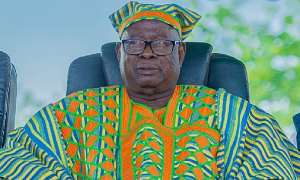 Cletus Apul Avoka
The Member of Parliament for the Zebilla constituency in the Upper East Region, Cletus Apul Avoka has announced his exit from Parliament in 2024.
The 71-year-old lawmaker has promised to bow out for another occupy the seat on the ticket of the National Democratic Congress (NDC) after 24years in Parliament.
Cletus Apul Avoka said this at a Youth wing meet and greet dinner organised by the Zebilla constituency NDC youth organizer, John Akutam and his deputy youth, Asaki Airforce 1.
"I have contested all the 8 elections in this Parliament and by the end of 2024, I would have done 24 years in parliament and I think some young men and women have become of age in the constituency. I have grown enough in the constituency and I am confident that if I step down and a younger fellow takes over, the fellow will be guided and the fellow will do well.

"Others believe I have paid my dues to the constituency so it is time to step aside when I am very strong. While others believe I should stay because of my experience to parliament. My constituents are happy stepping down in a high image even though some of them are not happy,"
Addressing the gathering in Zebilla, Hon Avoka urged the party youth not to engage in politics of insults that may create disunity within the party.
According to him, peace and unity among party members can only guarantee a resounding victory for the NDC in 2024 general elections.
He urges the party members to rally together behind anyone who wins primaries to lead the party.
Cletus Apul Avoka was the majority leader in the Ghana parliament. After the 2012 General Elections, he was replaced by Benjamin Kunbuor for the 6th Parliament of the 4th Republic as Majority Leader. He was the Minister of Interior in the National Democratic Congress government of John Atta Mills in Ghana until January 2010. His first ministerial position was as Minister for Lands and Forestry in the government of Jerry Rawlings. He was formerly the Member of Parliament for Bawku West constituency in the Upper East Region of Ghana from 1993 to 2005. In the 2008 parliamentary election, he re-entered parliament as the second MP for the Zebilla constituency.