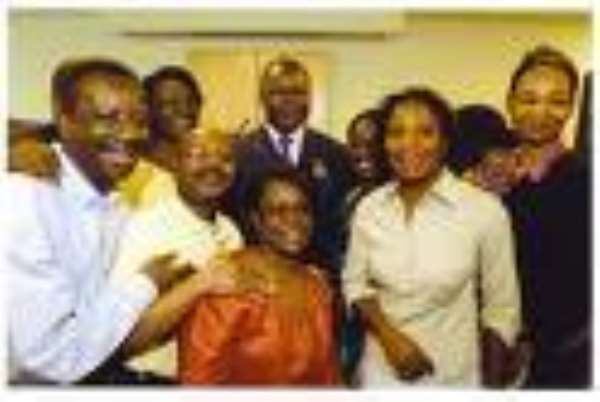 Ghanaians professionals who have completed their studies abroad have been urged to return home to serve their communities for the role they played in their early upbringing.
The Very Rev. Father James Robert Myers, Vicar-General of the Cape Coast Archdiocese of the Catholic Church who made the call said it was time Ghanaians thought of paying back what Mother Ghana had offered them.
The Vicar-General made the call in a comment on the good example of Dr Charles Ntiamoah Takyi, former Medical Superintendent of the Apam Catholic Hospital who returned home to serve the rural people of Gomoa and the nearby districts for over 20 years at a send-off in honour of the medical specialist at Apam.
Dr Takyi, also known as Nana Osafo Ahor Takyi, "Apomudzenhene" of Gomoa has taken up an appointment as Deputy Director of Clinical Care in Cape Coast.
The Very Rev. Fr. Myers said Ghanaians should eschew selfishness and place the nation above personal interest to enhance rapid development.
Mr John Afful, Executive Secretary of the Department of Health of the Archdiocese said Nana Ahor Takyi placed the knowledge he had at the disposal of other medical officers by organizing workshops for those who were in need of help.
Mrs Bertha Aboagye Agyeman, Deputy Central Regional Director of Nursing Service (DDNS), said the new appointment would offer nana Ahor Takyi the opportunity to manage 12 hospitals in the region instead of the only one he was managing.
Miss Patricia Antwi, Gomoa District Director of the Ghana Health Services commended Nana Ahor Takyi for the number of health facilities he had initiated when he was made the Acting District Director of Ghana Health Services.
Miss Antwi said during his tenure of office as Acting District Director of Ghana Health Service, Gomoa received the best performing district award instituted by the Regional Directorate of Ghana Health Services.
Dr Takyi was presented with a number of gifts by his former staff and sister Catholic hospitals in the Region.