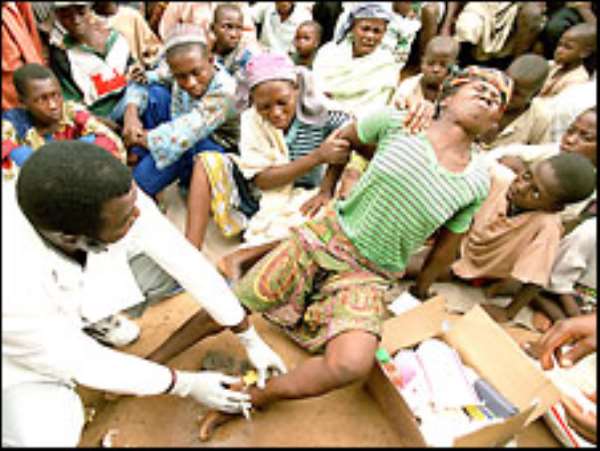 Musah Issahaku could not know that the water he drank was teeming with Guinea worm larvae. Now, a bandage on the 12-year-old's leg covers the tip of a white worm up to 1m long twisted deep into his flesh.
One worm has already been removed from his other leg and each day health workers extract 2cm of the spaghetti-like creature, a process that can take up to two months. "When the worm pulls itself around the muscle and they are pulling . . . it is painful," Issahaku said.
"If God persists, then the worm will be pulled out either today or tomorrow."
Guinea worm, also known as "the fiery serpent", is contracted by drinking water contaminated with microscopic water fleas carrying larvae. Once in the abdomen, worm larvae grow for around a year before emerging through an agonising blister.
Global efforts to eradicate the waterborne parasite have seen the number of cases fall from an estimated 3.5 million in 1986 to 10 674 reported cases last year, according to the Carter Centre, an aid organisation set up by former US president Jimmy Carter.
It is now endemic in just nine countries, all of them in Africa: the Sudan, Ghana, Mali, Niger, Nigeria, Togo, Ethiopia, Burkina Faso and Ivory Coast.
Ghana, a peaceful and relatively prosperous West African state, had 3 981 reported cases in 2005, second only to the Sudan, which saw 5 569 cases reported last year.
The main reason the incidence of Guinea worm remains stubbornly high is that many of those living in the country's north do not have access to safe drinking water, aid workers say. "It seems there are some unique issues (in Ghana) with regards to standing water, where people are getting water and how it spreads," said Ann Veneman, head of the UN children's fund.
The stinging sensation caused in the boil or blister when the Guinea worm emerges sends many sufferers into water to try to cool their skin. But on contact with water, the worm spews out larvae, putting those who drink the water later at risk.
Many of the 9 000 people who live in Diare get their drinking water from a man-made dam banked by sand and full of rainwater, a common system of water collection throughout the region but a method that increases the risk of con- tamination.
A new mechanised borehole - funded by Unicef - provides them with an alternative. But the geology of northern Ghana makes digging boreholes difficult and a low success rate deters those who want to help, said Dr Andrew Seidu Korkor, the manager of the Ghana Guinea Worm Eradication Programme, which works with the Carter Centre, Unicef and the World Health Organisation.
As the debate continues on how to tackle the region's clean water problems, the social and economic costs of the disease remain high.
The Carter Centre estimates rice farmers in southeastern Nigeria lost $20 million (R152.2 million) in one year because of outbreaks of Guinea worm which incapacitated workers. So far this year, there have been 2 500 cases but progress is being made, Korkor said.