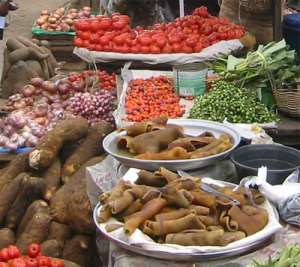 Prices of foodstuffs at some markets in the Cape Coast Metropolis in the Central Region, have gone up ahead of the Christmas celebrations.
Traders have complained of low sales though they had stocked their shops with a variety of the most purchased products during the Yuletide.
Inquiries by the Ghana News Agency (GNA), indicated that the prices of foodstuffs and livestock have gone up as Christmas approaches.
At the Abura market, Mr John Eshun, a livestock trader told the GNA that goats sold between GHC 300.00 to GHC 450.00 while smaller ones were from GHC 200 to GHC 250.
Another livestock trader Mr Evans Attakorah said his broilers sold between GHC 45 to GHC 60, adding that they were selling between GHC 35 to GHC 55 a few months back.
Mrs Efua Tachie Mensah, who sells rice told the GNA that five kilograms of perfumed rice sold between GHC 37.00 to GHC 70.00, depending on the brand.
She said before December, she was selling the same brands between GHC 34 to GHC 65 adding that the sudden increase in prices has greatly affected sales.
Ms Doris Sam a tomatoes and onion seller, stated that buyers over some time have been complaining about the sudden rise in prices.
"We sell five average tomatoes for five cedis and same for onions, they still buy anyway, maybe because they have no choice ".
She called in the Government to help stabilize prices by reducing fuel so that buyers would not feel cheated and help grow their businesses.
She was however optimistic that trading will improve in the days ahead into the New Year.
GNA