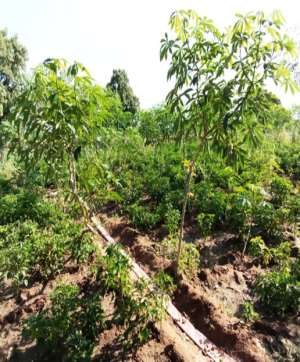 Techiman (BE/R) Oct. 21, GNA-The task of ''Feeding the World'' is becoming daunting in the advent of COVID-19 pandemic and climatic degradations and therefore requires multi stakeholder approach in addressing it. In Ghana, 5 percent of Ghana's population of 30,792,608 is food insecure and about 2 million people are vulnerable to become food insecure due to Covid-19 and climate vulnerabilities.
Also records from the Ministry of Health and its partners shows that one in every five children under 5 years is stunted, while one in every ten children under 5 years is underweight (Multiple Indicator Cluster Survey 2017/18).
To achieve the Sustainable Development Goal two which aims at ending hunger, achieve food security and improve nutrition and promote sustainable agriculture, while the chapter 13 focus at taken pungent measures to combat climate change by the 2030s there is the need for stakeholders from all divers of the economy to put in stringent strategies to improve holistic agricultural activities.
In addition adopting and implementing agricultural policies such as agricultural interventions rolled out by governments and other stakeholders including nongovernmental organizations such as the World Vision International should be embraced and create avenues for their sustainability to grow food to feed Ghana and the world at large.
Furthermore it would be prudent to depoliticize such interventions since they are geared at improving agriculture and fighting climate degradation to promote food security and "Feed the World".
It is obvious that the Corona Virus (Covid-19) has contributed to food insecurity across the globe, it was welcoming for stakeholders such as farmer organizations, farmers, and seed variety policy formulators, researchers at the Council for Scientific and Industrialized Research (CSIR) and other relevant crop and environmental institutes to underscore the need for an urgent approach to addressing food security in the Covid-19 era.
To draw stakeholders' attention on the need to improve food security, the World Vision International, Ghana (WVI) joins Food and Agriculture Organization (FAO) of the United Nations to commemorate World Food Day, a day set aside every year on 16th October to promote awareness on healthy diets for ensuring food security. This day provide the opportunity to appreciate our culture and the amazing foods we eat, in addition it unites us to think about better solutions to the world hunger.
Mr Maxwell Amedi Programmes Officer at the WVI touching on the theme for 2021, "Our actions are our future- Better production, better nutrition, a better environment and a better life" noted that there is the need for all to take right actions to ensure sustainable food security.
Mr Amedi indicated that the theme draws our attention to revisit underutilize crops, climate change, sustainable agriculture production and food safety policy issues.
He urged all to eat more of local foods to stay healthy and avoid food wastage to strengthen their immune system to withstand infections of the Covid-19 Virus and its related issues,
Mr Amedi assured of the World Vision Ghana commitment to continue working with children, families and communities through the Primary Healthcare and Nutrition and Household Food Security and Resilience programs.
GNA