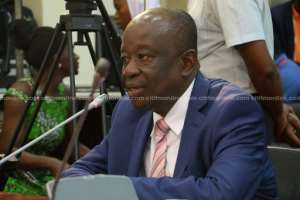 I heard about yet another unnecessary engagement of the National Security Operatives in trivial issues of forcing a regional security coordinator to leave his office because his term of office has ended. This is another primitive and unprofessional act by these selected pack of idiots calling themselves national whatever. Since when has the mandate of kicking people out of office been bestowed onto them? Why are we just messing up in serious matters like security and others? I honestly think we need to get serious with ourselves.
If indeed the man's has finished his term of office and had refused to leave, do you need this Rambo style action to take him out of the office? Where are our laws and the courts?
Please, can someone tell me if we are back in the days of jungle warfare where the democratic process is disregarded with impunity? Do we need armed men to go and force someone out of his or her office like this? Why must we just keep disgracing ourselves in the eyes of the international community like this? We claim to have a rule of law but I wonder how we duly apply the same supposed rule of law in matters that need legalities. Do we need strong and muscular men welding sophisticated weapons to threaten someone to leave his office, which he knows the term of holding himself up to that position is over?
I have a different interpretation to this whole brouhaha and it's that; probably the man in question was no longer dancing to the tunes of the powers that be. He wasn't doing what he's put there to do hence, the urgent need to swiftly kick him out and bring someone who can be remotely controlled. This is the only reason I see and which can lead to this savage and unprofessional action by any group of imbeciles in the name of providing national security.
I have always said that this agency called National Security should be scrapped off. It only exists to further put a financial burden on our payroll. Most of those who work there are only political parties' supporters. What will shock you is the fact that most of these people don't have the required qualifications or skills to work there. They are merely people with tough built muscles who are used for elections duties and other jobs and their reward is dumping them there just to feed fit for their survival till they need them to do the dirty works again. What a shame!!. Our security agencies are fully aware of the danger these thugs pose to our national security but they fear losing their jobs. That's why they keep mute over these issues. But let me point it out that; what they fear now will even degenerate into more complicated issues if there is anarchy in this country as a result of the inexpert conduct of these hoodlums. Therefore, the early you speak against it and get it stopped from the system, the better for all of us in this country.
We have all seen and heard about the numerous times these people have grossly misconducted themselves on several occasions, either before, during, or after elections in this country. Are we, therefore, waiting to record the massive destruction of their atrocities before we take measures or what? Can we be proactive enough to curb the situation before it gets out of hand?
How much security knowledge or skills do these people, who are not properly certificated or even trained at all have to work at where they are put by their parties to work? This issue isn't alien to the NDC since they also do the same thing whenever they are in power. We must stop if only we want peace in this country.
Aside from the practice of recruiting this unqualified person into the National Security Agency of the country, the country is already saddled with the issues of protocol enlistment of unqualified people into the various security apparatuses in the country. This has led to the amateurish operations of many of these people and it causes death and destruction to people and property respectively. The increased number of robbery cases can also be a result of this so-called protocol recruitment happening in the various security services.
We shouldn't downplay the training thus, foot and weapon drills, and the academic development these recruit officers go through during their training programmes. They are usually fully equipped with the needed skills and knowledge that help them to perform their duties professionally. However, the practice of giving slots to families and friends to get recruited into any of these services only brings down the morale and disciple nature of these services. How do you expect someone who gets into these security training schools as a son, daughter brother, sister, etc of ministers, MPs CEOs, etc, to be submissive to the rigorous training all officers need to go through to toughen them for the job on the ground? It's alleged most of these so-called protocol recruits don't even go for the training. They often just sit in the house and the uniforms are brought to them just like their letters of appointments are done.
We need to be extra careful in handling matters of our security. The more we keep toying with the issues of our security, the more we are exposed to attacks by hooligans within the country as well as some external forces owing to the porosity of our security and intelligence operations. It's about time we looked into the issue of who we recruit into sensitive areas like our security agencies. The peace and tranquility we enjoy today may tumble down to pieces if we don't much care as a country.
Ghanaians are watching!!!!