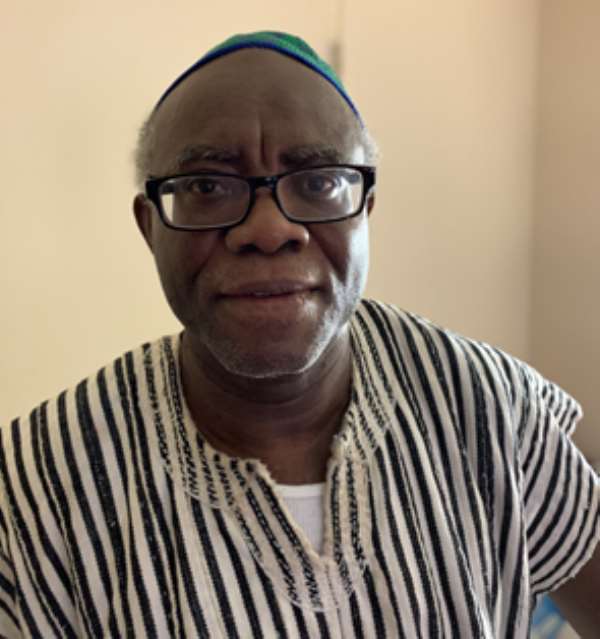 It is about time some substantively practical semblance of rationality and sanity was brought to bear on the fast-resurging practice of sorcery, an unremittingly savage, anachronistic and societally destructive practice of no apparent positive or morally redeeming value, besides the unconscionable exploitation of the poor, destitute and spiritually empty and hopelessly desperate. We have moved too morally and psychologically far into the modern civilized world, as a people, to be allowing ourselves to be held hostage by the practitioners of "traditional" ritualistic systems of delirious metaphysical conduct that well appear not to have brought any morally and materially progressive enhancements or quality-of-life-improvement benefits into the lives of ordinary Ghanaians, the most vulnerable and prime targets of these criminally irreligious charlatans who seem to be hellishly caught in the blood-sucking clutches of these nation-wrecking pretenders and purveyors of societal discord and anomie.
You see, "Efo Juju" may be an execrable ethnic stereotype that ought to be promptly and thoroughly eschewed and universally disavowed, but we also equally ought not to glibly or unwisely overlook the morally, psychologically and even physically deleterious impact of the wanton practice of sorcery on postcolonial Ghanaian citizenry. The reference here is to Togbe Shitor, the Ewe-descended "traditional priest" resident in Akyem-Kukrantumi, in the Eastern Region, who was recently alleged to have posted a videoclip on social media on the which a naked woman was seen chanting curses at the President, Nana Addo Dankwa Akufo-Addo, and the latter's blood relative, The Okuapemanhene, His Royal Majesty, Oseadeeyo Kwasi Akufo, II (See "Produce Woman who Cursed Akufo-Addo, Others within 1 Week – Okyenhene [Orders] Fetish Priest" Kasapa FM / Ghanaweb.com 4/12/21).
We are also informed that the chants and curses heard from the unidentified woman were aimed at the "spiritual" liquidation and/or the assassination of both President Akufo-Addo and Okuapemanhene Kwasi Akufo, II. We must also significantly note here that the publication of the aforesaid videoclips come at precisely about the same time that a young preacher by the name of Prophet Nigel Gaisie, an accused but as of yet legally unconvicted rapist was widely shown on a social media videoclip smugly claiming that, indeed, Vice-President Mahamudu Bawumia will succeed to the Presidency but that this will not happen by way of the 2024 Presidential Election. It is quite possible that these two "spiritual" events are collusively related, and absolutely no sheer coincidence at all. In sum, any investigations that get to be conducted into the case of the Kukurantumi-based "Efo Juju," that is, Togbe Shitor, can obviously not safely ignore any connection with or to Death-Retailing "Prophets" like Mr. Nigel Gaisie.
I also unreservedly agree with The Okyenhene, Osagyefo Amoatia Ofori-Panyin, II, that the coercive powers of the Ghanaian State and Government need to be promptly and swiftly brought hard to bear on the pates of morally and judicially depraved and barbarous Ghanaian citizens like Togbe Shitor and the woman supplicant who visited the Kukurantumi shrine of "Efo Juju" to seek the imposition of the death penalty on Nana Akufo-Addo and Oseadeeyo Kwasi Akufo. Thankfully, there exists a Ministry for Chieftaincy and Culture and, I believe, Religion as well, which is statutorily backed by Ghana's Fourth-Republican Constitution. What I am driving at here is the prompt and imperative necessity for the aforementioned ministry to collaboratively liaise with Parliament and our judicial establishment to lay down the strict rules of civilized moral conduct for the practice and practitioners of indigenous or Traditional African Religions.
There are obvious forms of sorcery that I can think of that need to be promptly and summarily proscribed in toto! But I suppose in our kind of Constitutional Democracy, some of these issues may very well need to be healthily debated and deliberated upon before being formally codified into statute or law. Banishing non-Akyem or non-Akan sorcerers from Okyeman territory will simply not wash or achieve the most productive and/or constructive results, contrary to what Osagyefo Amoatia Ofori-Panyin may think or believe. We live in a postcolonial and a postmodern constitutional democracy in which ethnic-oriented or defined boundaries no longer hold sway, especially in our hi-tech era of globalization and sociocultural cosmopolitanism. It will be far more constructive and practically more effective to subject all nation-wreckers and willful moral degenerates to the proportionately punitive laws of the land, such as imprisonment, prohibition and even downright execution, if the imperative need to ensure social and political stability and interethnic and intercultural harmony is to prevail.
We need to also define the role and practice of sorcery in Ghanaian society, so as to firmly lay down the most appropriate and effective disciplinary measures. Calling "sorcery" by the label or designation of "Fetish Priesthood," the way the "innocent" European colonialists did, does not inspire the sort of legal and judicial gravity or seriousness with which or by which this present and palpable danger and threat to our humanity and society needs to be tackled.
*Visit my blog at: KwameOkoampaAhoofeJr
By Kwame Okoampa-Ahoofe, Jr., PhD
English Department, SUNY-Nassau
Garden City, New York
April 12, 2021
E-mail: [email protected]