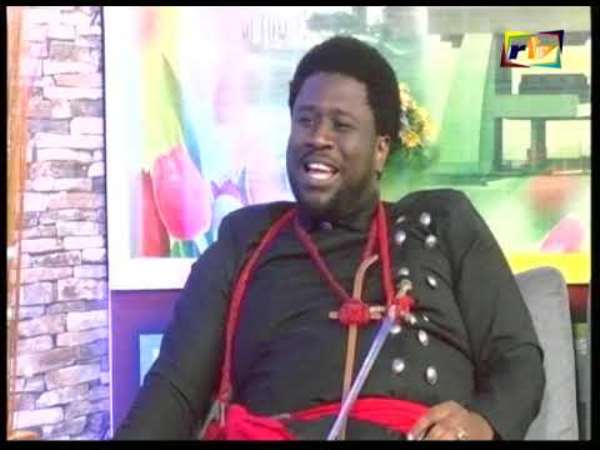 Odeefuo Kwabena Asiamah who is popularly known as Ajagurajah, the founder of the Ajagurajah Movement in Ghana, has revealed that animal sacrifice is essential for our spiritual protection.
He noted that, offering sacrifices are still relevant and not outmoded as some pastors claim.
He explained that, animal sacrifices are performed to show appreciation to a deity for protecting a family or an individual.
"Because your pastor told you that sacrifices are not good, is the reason why evil spirits are afflicting you. Is the reason why your child died mysteriously. Is the reason why things are difficult for you. Is the reason why you don't have a job.
"As for me, the art of sacrificing is still relevant for me. I'm not mad, neither I'm I superfluously rich to be slaughtering rams and preparing food for others to eat. It is the law," he intimated.
According to him, when one visits Saudi Arabia, it is very normal to always find Sheiks wearing gowns. " Their Sheiks don't wear Gucci or Louis Vuitton. They are always in their gowns, why? That is their tradition."
He continued, "Because we have repudiated our culture, that is why we are suffering. Africans, our culture is to sacrifice a ram for God and that is what frees people from bondage. Sacrifices are what guarantees spiritual protection".
Ajagurajah added that, "A life for a life but I know most of you don't understand. A life for a life. This is something spiritual I'm telling you and not a physical matter.
"I'm a priest and the spiritual law says before one can grow older, you have to exchange blood for your soul. It is stated in Hebrews that, when blood isn't poured out, there can be no remissions of sins", Ajagurajah
He argues that the mistake of most Christians is the fact that, they believe the blood of Jesus is enough to save them. But he quizzed, "Why should Jesus use his blood to save you? What is the meaning to say, Christ blood shed would save you? Sacrifice. The slaughtering of ram".
Ajagurajah as he is affectionately called stated that, people might call him an occultist, or idol worshipper because of his comments but he doesn't care. "What I've set my mind on is what I'm doing. I wouldn't change because it has helped me. If it hadn't helped me, I wouldn't be doing this four years on when I started the Ajagurajah Movement".
He made these remarks in a video seen on his official Facebook page called "Ajagurajah Movement".
Kwabena Asiamah cautioned that, people might not understand him but, the day "When you have your leg broken or when your two hands are on your chest and you're dead that is when you would realise the mistakes you have made in life."
He continued, "Something terrible has happened to you and you're unable to talk or the day you would have been stabbed or your family members would have killed you (Spiritually) and your spirit would be standing by your dead body and weeping, that is when you shall remember that, Odeefuɔ Kwabena Asiamah advised me to protect myself to prevent any stupid person from killing me".
He added, people have been able to build and have walled their houses and bought security dogs to protect themselves against thieves but there are spiritual thieves. "Do you also fear spiritual thieves?" he quizzed.
In ending he said, all the ram he sacrifices are to thank the God of Ajagurajah for protecting his members. "The God of old, the God of Abraham, the God of Isaac and the God of Jacob.
"Everybody shall die but none of my church members shall die a foolish death. Be careful so that someone doesn't kill you because we are in the days of death. Offer a sacrifice unto God using a ram in exchange for spiritual protections. There is nothing wrong with that," he ended.