Special Prosecutor Resigns: Nana Addo Is The Cause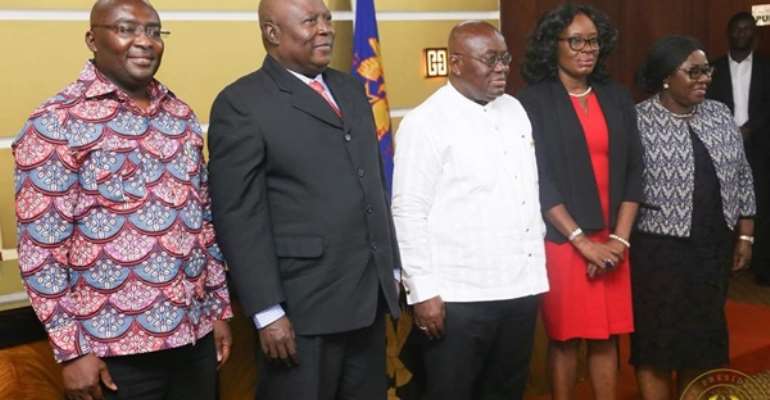 Nana Addo, the first gentleman of Ghana is a total disappointment to the land and a complete disgrace to our heritage as Ghanaians. Upon his assumption of office as the president of Ghana, he promised to fight corruption, hence, appointing Martin Amidu as the first Special Prosecutor to prosecute professional thieves.
Nana Addo appointed this man to that office just to cover the rots in his government while pretending to fight corruption. You must be a disgrace, Mr. President to create an office and do not support it.
Following the revelation of the bad Agyapa Royalties and the many troubles Martin Amidu had to face, the special Prosecutor has come out boldly to state why he resigns. This is the first time an appointee by the president has resigned and has dared the president.
Martin Amidu, I salute you for this great step. Nana Addo appointed you to that office and got you frustrated. Corruption is still a type of cancer in the intestines of Ghana. It is Killing our nation slowly. But the first gentleman of the land is the first corrupt president in the history of civilization in the history of Ghana.
Mr. President, Martin Amidu, your appointee dares you to come after him. If what he has come out to say is false, I dare you to prove yourself.
Nana Addo supports corruption. In one of my articles recently on Modernghana, "Closedown the Office of the Special Prosecutor", I attacked the office of the Special Prosecutor on the grounds that he has not met Ghanaians' expectations, not knowing you have disappointed motherland Ghana.
Resign honourably from office for this great rots you have for four years created and promoted. I await your response to Martin Amidu.
Brave men don't quit, they use a different path. Martin Amidu has shown that he is a brave person, a man ready to resign from ill supportive offices. He is not an anti-corruption entrepreneur but I say without reservation from what Martin Amidu has stated in his resignation letter that Nana Addo is an anti-corruption entrepreneur.
I am an anti-corruption crusader. Anything against this focus runs me crazy. I disgust you, Mr. President. What further evidence do Ghanaians need in order to take the seat from Nana Addo? Let's vote Nana Addo, the corrupt and supporter of corrupt practices out.
From the pen of Emmanuel Graham Nyameke