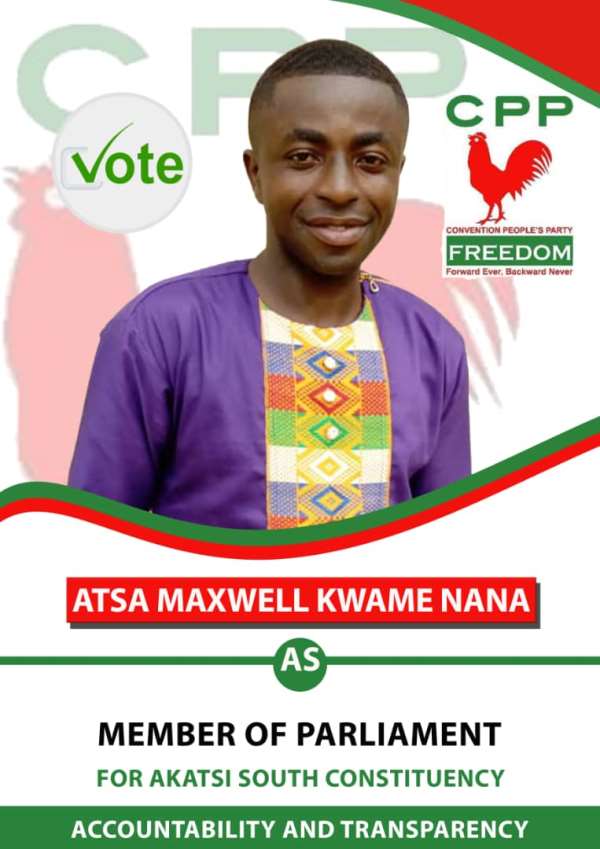 Atsah Maxwell Kwame Nana
Mr. Maxwell Atsah Kwame Nana, popularly known as Nana K, the Parliamentary Candidate for Convention Peoples Party (CPP) in the Akatsi South Constituency of the Volta Region has said the party is so keen on delivering its campaign promises when it wins the upcoming December 7 general elections.
In an interview with Modern Ghana news, Mr Atsah said some of their promises include construction of roads, creating decent and sustainable jobs for the youth, and investing in young ones among others.
According to him, CPP under the first president of the Republic of Ghana Osagyefo Dr. Kwame Nkrumah brought a lot of social interventions which was later destroyed by his successors.
Mr Atsah added that all the policies of the late Dr Kwame Nkrumah abandoned by the successive governments would be implemented when the party returns to power.
He continued that it is in the interest of the CPP to create jobs, build factories, hospitals and widen public sector services that will absorb many youths.
He added that agriculture will be one of their main targets when given the nod.
He stressed that free education will be extended to the University level making tertiary education accessible for all.
Mr. Atsah explained that CPP was not able to retain their presidential and many parliamentary seats for a while now, indicating that "for some years now, our leaders have exhibited massive corruption with the mindset of attaining power.
"The liars are just too much and Ghanaians have realised that and now turning to their beloved CPP," he stated.
Mr Atsah Maxwell Kwame Nana will contest the Akatsi South seat with three other aspirants namely, the incumbent Member of Parliament (MP) Mr.Bernard Ahiafor of the National Democratic Congress (NDC), Mr Leo Nelson Adzidogah of the New Patriotic Party (NPP), Mr.Sanusi Murana of the National Democratic Party (NDP) and Mr Donald brown Dzamesi of the All People's Congress (APC).
Like, subscribe and follow our photo reports here: