This Lurid Brown-Nosing Tactic Will Not Help Little Dramani Win Any Cheap Political Points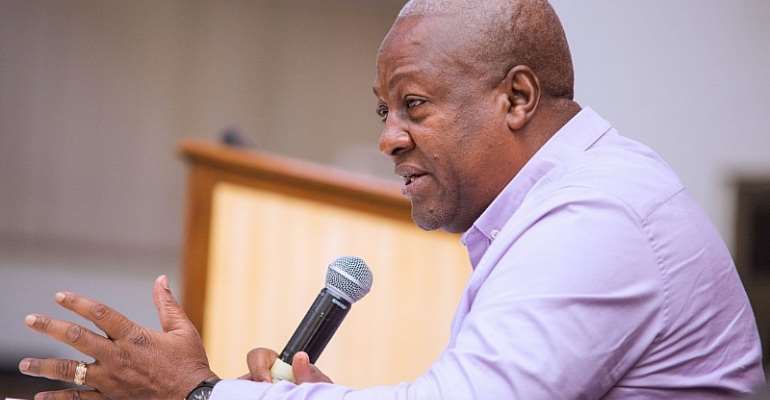 As it is to be expected, Candidate John "Akonfem-Kanazoe" Dramani Mahama continues to dig himself deeply into a messy political hole that increasingly makes him an unprepossessing or decidedly an unattractive presidential comeback kid. In his latest salvo, the former President has accused Nana Addo Dankwa Akufo-Addo of not doing enough to prioritize road-construction works in the local constituency of firebrand Assin-Central Member of Parliament and media mogul Mr. Kennedy Ohene Agyapong (See "NPP Has Not Treated Kennedy Agyapong Well – Mahama" Ghanaweb.com 10/17/20).
This accusation, rather than impugn or tarnish the leadership competence or the enviable sense of justice and fair play on the part of Nana Akufo-Addo, actually exposes Candidate Mahama for the veritable political charlatan and pathological trucker of mendacity that the former Atta-Mills' arch-lieutenant has long been known to be. First of all, if it were, indeed, true that the previous Mahama-led regime of the National Democratic Congress had an unrivaled track-record of having built more roads and highways than any other government before or after, Little Dramani would not be bitterly complaining about the abject neglect of the roads and highways in Mr. Agyapong's Assin-Central Constituency, in the Central Region.
What is more, his morally bankrupt accusation of President Akufo-Addo also clearly betrays the critic for woefully lacking the talent and skill for development planning. You see, you don't simply prioritize the roads and highways of all 275 constituencies in the country on the basis of which of the Parliamentary Representatives of the ruling party is the most vocal in either Parliament or the media. Rather, such development agenda or policy initiative must be primarily and inescapably based on what our health and medical experts call a system of "Triage." You have to target areas and regions across the country where the need is dire or most acute without regard to electoral support or the woeful lack thereof. Playing tribal games here, the pet political favorite of the Bole-Bamboi native, will definitely not work in this most delicate and sensitive of situations.
Thus, for example, luridly and invidiously claiming that the Akyem-Apedwa through Kyebi and Bunso road is far less traveled or trafficked than the Twifo-Praso road, and therefore the latter highway stretch ought to have been given greater priority than the former, simply does not muster common sense and fair play. The irony here, of course, is that Candidate Mahama claims to be a historian and yet it well appears that in his meanspirited bid to taking a cheap shot at his most formidable political opponent, Little Dramani has so soon conveniently forgotten the deliberately devious strategic set of circumstances that caused the hitherto most trafficked Guggisberg-constructed Apedwa via Kyebi to Bunso stretch of the Accra-Kumasi Highway to be diverted.
I have written extensively about the infamous Potroasi Ravine – aka Potroasi Deathtrap – to desire to wastefully rehash the same here once more. Suffice it, however, to observe that while the creation or construction of an alternative route from Apedwa to Bunso was wisely in keeping with the imperative necessity to significantly reduce the hitherto overburdened Apedwa-Kyebi-Bunso stretch, nevertheless, profitably invested civil-engineering capital could have ensured that the Potroasi Deathtrap, so-called, would have been redesigned to significantly reduce road accidents through a combination of both architectural and/or civil engineering ingenuity and the studious observation of road and highway signage or sign boards by motorists.
As I have vehemently maintained time and time again in the recent past, the real philosophy behind the strategic diversion of the Apedwa-Kyebi-Bunso stretch of the Accra-Kumasi Highway, historically the first of its kind in this part of the country – that is, since the 1920s – had the tactical and punitive political upshot of the systematic rustication of the ancient Okyeman Royal Capital. But, of course, we are also well aware of the fact that a hopelessly defeated Candidate Dramani Mahama thought that he could tactically reignite a sensitive old issue in the grossly mistaken hope of scoring cheap political points, thereby opportunistically restarting his badly fizzled and fast-stalling and dying electioneering campaign motorcar. Sorry, Little Dramani, but you come to the game of modern, postcolonial Ghanaian politics rather much too late and far behind the rocket-propelled Akyem-Mafia manufactured, titanium-rigged Jubilee House-bound Jumbo Jet.
*Visit my blog at: KwameOkoampaAhoofeJr
By Kwame Okoampa-Ahoofe, Jr., PhD
English Department, SUNY-Nassau
Garden City, New York
October 17, 2020
E-mail: [email protected]