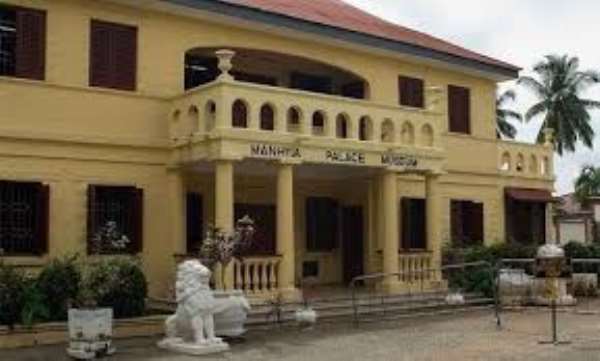 Indeed, he does not lack native wit.
The laughing eyes of the king and the spontaneous applause from the gathering at Manhyia on Wednesday 26, August spoke volumes. A player with a sharp tongue and quick wit was in their midst.
The setting was palpable. Manhyia looked different-- everyone was seen masked up as the Palace witnessed a number of dignitaries including chiefs and elders of Asanteman. There was John the 4th and his running mate Jane Naana. .There was Yohane Asubofo (John' the Baptist,) the pathfinder.
And there was Joshua and Johnson etal..
The visit was to officially introduce the NDC No.2 candidate to Asantehene Otumfuo Osei Tutu II .
First, a roll call was made by the party chairman 'Asubofo' Samuel Ofosu-Ampofo. He literally rattled the Twi language and spoke highly of the flagbearer John Mahama and the 2IC Prof. Jane Naana Opoku-Agyemang.
Enough to say,, they're on a crucial mission.
But can they outwit and outdo the Akufo-Addo 'project machine'?
Manhyia Asked for more
There had been loads of campaign promises, emotive pleas, quests for advice, counselling, guidance as well as blessings. Yet, it appeared Manhyia's ears weren't full. Consequently, the king would ask for more like Oliver Twist. His hunger must be tamed: The itch was pitching, the king's linguist made it known to the gathering, "Otumfuo wants to hear from Johnson Asiedu Nketia' aka (General Mosquito).
It was obvious, Manhyia wouldn't let the witty man leave the palace without having a taste of his raw, rich, and quick inventive earthy humor stories.
And did he have one?
Of course, Kwabena Nketia had more than one.
Amid smiles, he emerged from within the gathering-- bespectacled and masked up. He'd a couple of cards tucked deep in his Fugu or Batakari pocket. He revved his engine took the mask off and threw his first punch. It was the Mercedes Benz and Tico story:
Who would hang on to a Tico car, if he's given a Mercedes Benz, he quipped? That's a suggestive language and you know what that means.
"Obia aduro nka daamu."
Better translation, all the political parties contesting the 2020 presidential poll must keep their candidates or flagbearers in the stable. They shouldn't dare come out because, NDC has Benz-- personifying the party's vice presidential candidate, Jane Naana.
So who's the Tico car?
Mr. Asiedu Nketia also made a case that NDC, today had made the best decision or best balancing in Ghana's political history ever. According to him even though women are the majority and constitute 51% of the country's population they'd been sidelined since independence when it comes to multi-party democracy. Per their numerical strength, he argued women must have the capacity to gain control of government offices.
But this isn't the case.in the traditional chieftaincy system --where the role of the Queen-mother, is very significant and crucial in the socio-cultural community development. This is evident also in decision-making disputes settlement and administrative-level. He noted that it's about time as a people we peered back into our past governing system and tap into the rich ideas and ideals and incorporate them into our modern democracy...Thiis would perhaps help promote and propel our system.
Also, it seems inexplicable to him how some political parties continue to pair Christian and Muslim candidates, or Ashanti and Northerner or an SDA and a Basil to run for the highest office in the country.
In his view it all doesn't make sense because that isn't a true balancing. 'God makes the best balancing'-- which is man-woman, stressing that NDC couldn't do it better than choosing a powerful woman like Prof Jane Naana Opoku-Agyeman to partner with former President John Mahama on a major political party's ticket.
Yes, Nketia is skilled at making clever and funny remarks. And he can make them anytime no matter where he finds himself.
Prez. Mahama's statement
The NDC presidential candidate John Mahama and Prof. Naana Jane Opoku-Agyemang in a separate statement told Otumfuo they'd come to seek his counselling and guidance ahead of the December presidential election.
The two were in the company of National Chairman, Samuel Ofosu Ampofo; campaign manager Josuah Alabi and other key members of the party.
Mr. Mahama used the platform to tout some major projects he completed during his tenure. They included cocoa roads, Kumasi kejetia market, Kumasi Airport phase one project, Accra Kwame Nkrumah Interchange in Accra, regional hospitals and many more.
He assured Otumfuo and Asanteman that the region will get its fair share of the national cake.
"Nana, Ohene kese3, I've done it before and I will do it again when I'm given the mandate again, " he promised.
Mining sector
According to him he would regulate the mining sector for 'galamseyers' to promote social justice and give opportunity for youth to engage in legal mining.
How would he do it?
His government will introduce cooperative mining, where the youth can organise themselves into groups and there would be mining safety officers to ensure that they do the right thing," Mr. Mahama pointed out.
Mining activities would be well-regulated, noting the current government had made mining difficult for miners especially small scale miners.
"A lot of things are not going on well in this country. For instance, when it comes to small scale mining, people paid monies and were given concessions genuinely which was done through the Minerals Commission. When the current government assumed office, they have taken these concessions from these people and have given them to other people."
The Big Push
Not only that his party will introduce what he calls the "10 Billion Big Push" where US$ 2 billion would be set aside towards infrastructural development in various parts of the country each year for a period of five years, should he be given the nod.
Mr. Mahama said the infrastructural projects would cover the areas of health, education, roads among others. Major road infrastructure projects he cited under the initiative would include the dualisation of the Accra-Kumasi road, Accra to Cape Coast Road and Accra to Aflao road. He said that he would also ensure the completion of the Eastern Corridor road as well as construct a number of roads in the Bono, Bono East and the Ahafo regions. He talked about railway development too.
Veep statement
Prior to the Manhyia visit, Prof. Opoku-Agyemang had embarked on a 10-day tour of the North East, Northern, Bono, Upper East, and Ahafo regions.
The academic asked for Otumfuo's blessings, guidance and good counselling.
"I won't hesitate to call on you anytime any day," she told the Asantehene.
Otumfuo on his part thanked the duo for the courtesy call and particularly charged Mr Mahama to go out there and market himself better.
"NPP say they've done this and that. In like manner, NDC claim they've built roads, hospitals etc, now the ball is in your court to explain to the electorate what you did and what you didn't or couldn't do, " he concluded.
By Gordon Offin-Amaniampong