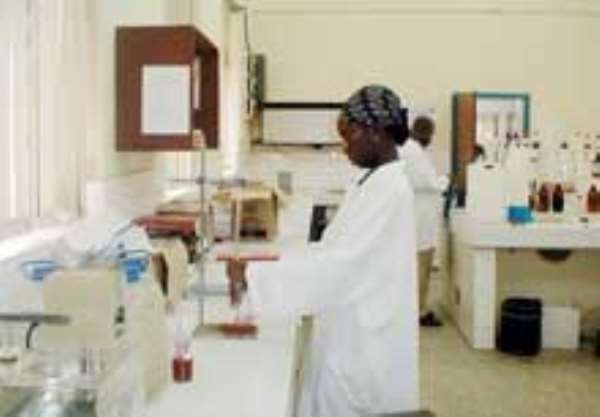 THE DEPUTY Chief Executive Officer of the Ghana Food and Drugs Board (FDB), Mr. Kwamena Van-Ess, has announced that the Board will within the shortest possible time introduce the Hazard Analysis Critical Control Points (HACCP) systems to the food industry to ensure higher standards of food safety.
According to him, this would come into force as soon as the new FDB law, which was currently under review for amendment, went through the necessary processes for approval.
"I hope by the end of this year or early next year, the new law would be in force and adoption of the HACCP would become mandatory," he added.
He indicated that HACCP was an internationally recognized food safety tool used throughout the world's food industry as the best available approach to assuring food safety, stressing, "HACCP is proactive and gives greater confidence in the safety of food."
Speaking at a short ceremony to commission Aquafresh as the first company to adopt the HACCP system in Ghana on their premises in Accra on Wednesday, Mr. Van-Ess noted that the HACCP process involves "taking a step back form one's business" to identify all hazards in the production process as well as critical areas of control to undertake measures that would prevent problems from arising.
He said in view of the fact that consumers were presently very conscious about food safety and high quality standards, HACCP was a documented risk management tool with a focus on preventing problems before they occur.
According to him, the increased demand for food safety and quality assurance in recent years, particularly from retailers and food manufacturers, has been a result of increased food-borne diseases and the dominance of global retailers among many others.
In view of this, he pointed out that HACCP would be a continuous process that would ensure improved safety measures and also serve as a preventive tool with minimum cost and maximum benefit for producers.
The HACCP, when introduced by the FDB, would imply to primary producers, processors, catering companies, airlines for in-flight catering, hospital food service departments, multinational fast food companies, food wholesalers as well as distributors and retailers.
Mr. Van-Ess explained that "although HACCP may sound intimidating, it does not need to be complicated or difficult to implement. It is a logical approach that once explained can easily be adopted by any food business."
He continued that compliance with the system would ensure total elimination of food that present risk of illness to the consumer resulting from pathogenic microorganisms, toxins arising from microbial action, chemical residues from unsatisfactory farm production methods or factory processing and other injurious foreign materials.
"When the incidence of illness arising from unsafe food is considered, illness caused by microorganisms far exceeds that caused by chemical residues and toxicants, including pesticides, food additives, natural poison and foreign materials," he emphasized.
Further, he commended Aquafresh Limited, manufacturers of Kalyppo and Milko fruit drinks, for adopting the HACCP and pledged that the Board, with an aim to implement appropriate regulatory measures to achieve the highest standards of safety, efficacy and quality for all food drugs cosmetics, chemical substances and medical devices, would continue to ensure protection of the consumer as envisaged in the laws regulating food and drugs in Ghana.
Also, he urged all, particularly government, to support local industries since that was a key to Ghana's economic success and stressed that the FDB would continue to do everything within its means to curb the high importation of foods and drugs, which was crippling the local industry.
Concluding, he indicated, "As far as the food industry is concerned, the quest for quality has been recognized for many years, and 'Quality Control' has been a traditional approach of production of quality.
"However, there is one aspect of total quality management programme which demands consideration above all other aspects, and that is food safety."

On his part, the Managing Director of Aquafresh Limited, Mr. Milad Milet noted that since the company began operations in the country some six years ago, it has been committed to striving to improve systems in all directions; hence its adoption of the HACCP to ensure customer delight.
He said, "The production process of Aquafresh has met with stringent standards of the Food and Drugs Board. A culmination of the process of scientific production planning and implementation has led to the FDB offering the HACCP certification today."
Mr. Milet stressed that the company had a management philosophy to offer consumers an excellent value for money without losing the price sensitivity that has been evidence of the company's success story, saying, "The quest to be made-in-Ghana led to backward integration of the production process to include home grown pineapples and oranges from domestic farmers."