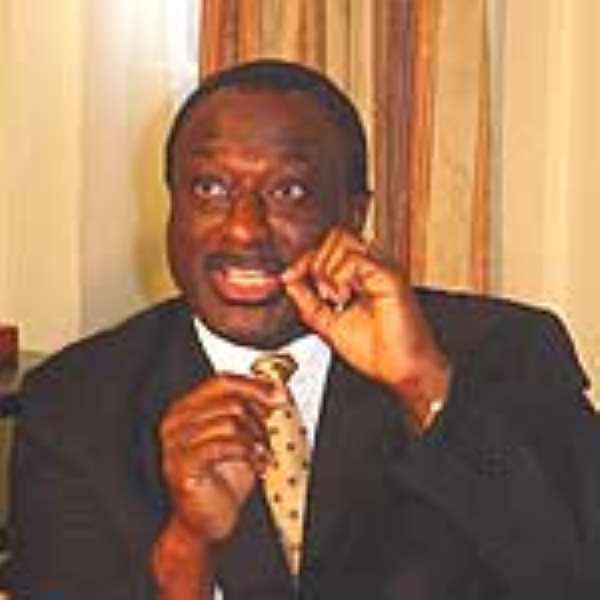 Mr Alan Kyeremanten, Minister for Trade, Industry, Private Sector Development & PSI
Mr Alan Kyeremanten, Minister for Trade, Industry, Private Sector Development and President's Special Initiatives has urged marketers not only to concern themselves with the packaging and marketing of their products and services but also to contribute to the marketing of corporate Ghana.
Mr Kyeremanten was delivering a speech on behalf of President John Agyekum Kufuor, to mark the Silver Jubilee celebration and Awards Night of the Chartered Institute of Marketing Ghana (CIMG). He commended the CIMG for its high sense of professionalism, which had resulted in excellent marketing standards in the country.
Professor Stephen Adei, President of the CIMG and the Rector of the Ghana Institute of Management and Public Administration (GIMPA), in a welcoming address advised Ghanaians to remove all negative self-branding and to promote Ghana as a tourist and investment destination. He also commented on election 2008, saying, "Our criteria for choosing future leaders should be the credibility of their agenda to develop Ghana.
"Let's choose leaders that will be catalysts for socio-economic transformation and not mere perpetrators of the status quo of corruption, inertia and violence of our recent past," Prof. Adei added.
In the Personalities awards category, Mr Albert K Essien, Director, Ecobank Trans-national Incorporated, Regional Head, West African Monetary Zone, was adjudged the Marketing Man of the Year 2005.
Nana Adwoa Awindor, Managing Director, Premier Productions, won the Marketing Woman of the Year, while Mr Solomon Atefoe, Marketing Manager of Classfam Pharmacy, was adjudged the Marketing Student of the Year.
Other award winning companies were Kasapa Telecom, Ecobank, State Insurance Company, Unilever, Emirates Airlines, Melcom, Goil and Toyota Ghana Ltd, among others.