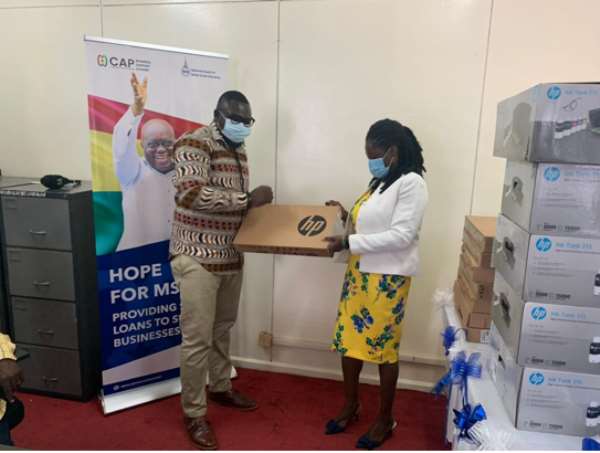 The Ghana Chamber of Young Entrepreneurs (GCYE) together with some other trade associations received logistical support from NBSSI as part of the CoronaVirus Alleviation Program Business Support Scheme.
At a short ceremony held at the Head-office of NBSSI, the Executive Director, Mrs. Kosi Yankey thanked the trade Associations for their cooperation and reaffirmed her support to them.
She indicated that The gesture was part of NBSSI's support to Associations under the Coronavirus Alleviation Programme Business Support Scheme (CAP BuSS).
She further intimated that more of such was yet to be rolled out.
Speaking on the sidelines of the event, The CEO of the Chamber, Mr. Sherif Ghali expressed gratitude to NBSSI for the gesture.
He indicated that his Chamber will make good use of the gadgets to the benefits of its members.
"So far I'm happy about how NBSSI is going about with the CAP BuSS project. I only wish that they continue on that tangent and make the process more transparent, especially with the disbursement of the fund." He admonished.
Each trade association was given one HP Laptop and HP Multipurpose Printer.