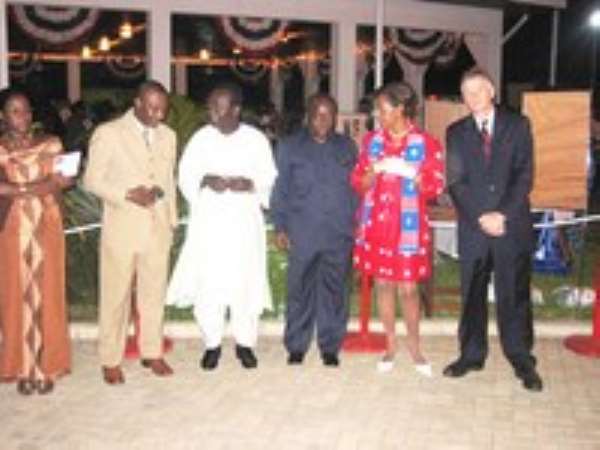 An agreement that will enable Ghana to access the US-sponsored Millennium Challenge Account grant of 500 million dollars is to be signed in the first week of next month, Ghana's Foreign Minister, Nana Akufo-Addo has confirmed.
The grant, which will be used to support agriculture in selected districts, will make a significant impact on many Ghanaians, he said and commended the US for the facility.
Nana Akufo-Addo was responding to a toast at a reception hosted in Accra last Tuesday by the United States Ambassador to Ghana, Pamela Bridgewater, to mark the 230th Independence Anniversary of the United States.
The occasion, under the theme: "celebrating cultural diversity", attracted people from diverse backgrounds including politicians, academics, chiefs and religious leaders.
Ghana's eligibility for the MCA was as a result of its demonstrable commitment to good and democratic governance, the rule of law, as well as its remarkable economic performance, he said.
He lauded the commitment of the US to human freedom, which he said, inspired the struggle for independence in many African countries.
Nana Akufo-Addo also recounted the contributions of African-Americans such as George Padmore, Dr Martin Luther King Jnr., W.E.B. Dubois, Maya Angelou and Mohammed Ali to the building of America.
Ghana, he said, was making efforts to entrench good democratic practices and the rule of law to promote the well-being of its citizens.
Nana Akufo-Addo noted the excellent and healthy relationship between Ghana and the US and was hopeful that there would be even greater co-operation between the two countries in the years ahead.
For her part, Ms Bridgewater said the US, as diverse as it is, has thrived on the common values of democracy, religious tolerance, the rule of law, a free and open market.
She praised Ghana for making strides, towards building a free and vibrant democracy based on those common values, which she added qualified the country for the MCA.
She expressed the hope that these common values will ultimately allow Ghana to move beyond the need for outside assistance and to create a prosperous and sustainable economy based on the effort and creativity of the Ghanaian people.
Apparently, reflecting the theme, there was a wide variety of American cuisine as well as an exhibition by American institutions and companies in Ghana.